Emma Klaver, 19, named Albion's firefighter of the year
Jeremy Graham takes over as new fire chief for AFD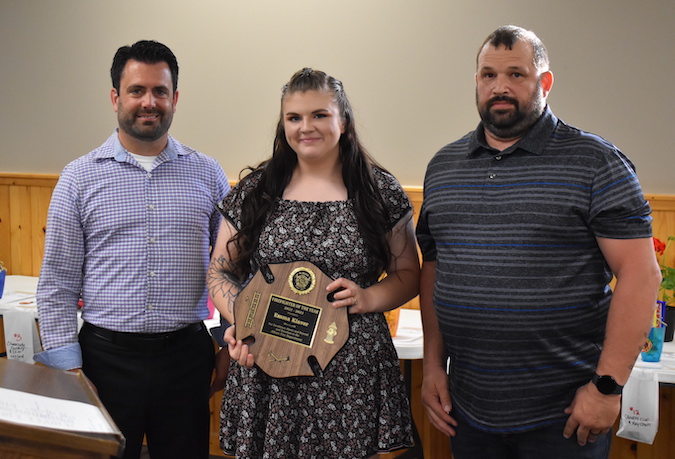 Photos by Tom Rivers
ALBION – Albion Deputy Chief John Papponetti, left, and outgoing Fire Chief Rob Conner present the firefighter of the year award to Emma Klaver during the ALD installation banquet and awards presentation on Saturday evening at the Carlton Rec Hall.
Klaver was praised for completing training to serve as an interior and exterior firefighter, and also as an EMT (emergency medical technician).
Klaver, 19, joined the department almost two years ago and pushed to complete training to better serve the department an community. She is among the top responders for the fire department, and also works full-time for Mercy Flight EMS based in Albion. She also is working on a college degree in equestrian management.
"When I join something I like to push it as far as I can go," she said.
Klaver said she has made many friends through the Albion Fire Department and Mercy Flight, and the groups have been very welcoming.
She joined the fire department partly through her boyfriend AJ Fisher's involvement. He was the department firefighter of the year for 2021-22. Klaver also said she was inspired by her grandfather Paul Gillette, a long-time member of the Barre Volunteer Fire Company.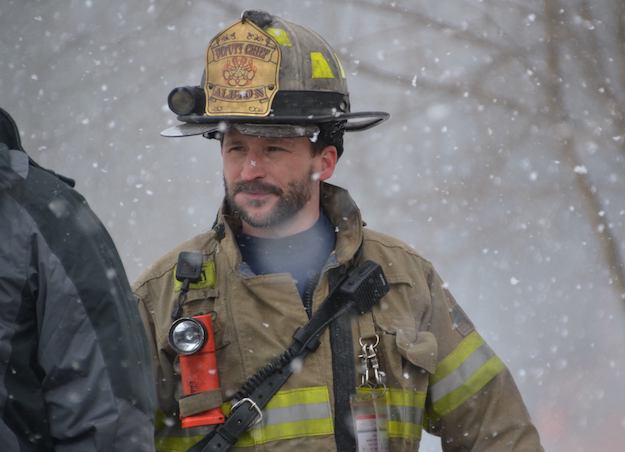 Jeremy Graham, shown in this file photo from January 2018, is the fire department's new chief, taking over for Rob Conner, who served two years in the role. Graham's term was effective beginning May 1.
Graham, 43, was the department first lieutenant in 2022-23, and previously served five years as a deputy chief.
He joined the department soon after the Sept. 11, 2001 terrorist attacks that killed nearly 3,000 people, including 343 New York City firefighters.
Graham works as a maintenance mechanic for the Village of Albion water treatment plant. He will lead a fire department that responds to about 500 to 600 calls a year.
"I like the Albion people and it's rewarding to help the other people in their time of need."
Graham will represent the fire department at Village Board meetings, monthly firehouse meetings and with the County Fire Advisory Board and with the Fire Chiefs' Association. He praised the commitment of 50 active volunteer firefighters in the department, and also said the AFD has an experienced and dedicated group of officers.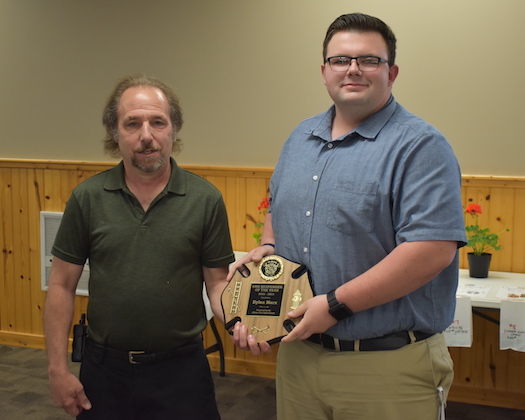 Fred Piano presents Dylan Marx with EMS Responder of the Year.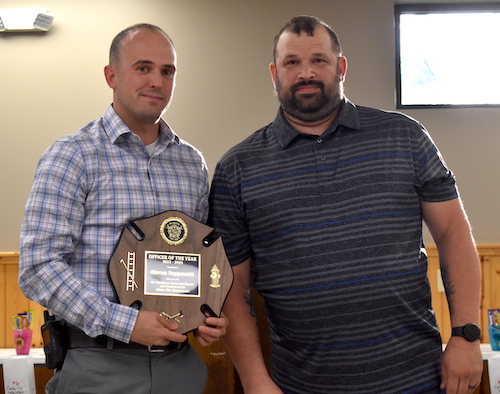 Steven Papponetti, left, accepts the officer of the year award from Rob Conner, the outgoing fire chief.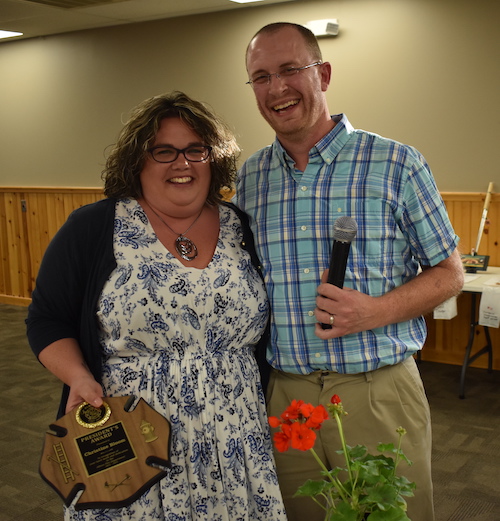 Nathan Bloom, the Albion Fire Department president, presented the president's award to his wife Chrissy for all of her support helping him in the role. She serves as the secretary on the department's executive committee.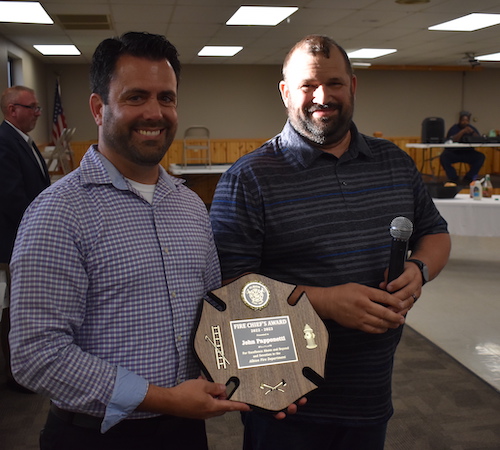 Rob Conner, right, presented a "Chief's Award" to John Papponetti. Conner also said a "Chief's Award" will go to Jeremy Babcock. Conner said the Papponetti and Babcock are instrumental in responding to many calls and with the departments leadership.
Babcock was unable to attend the annual banquet on Saturday. He was the department's top responder in 2022-23. The top 10 responders based on percentage of calls, training and meetings include Babcock, followed by AJ Fisher, Rob Conner, Austin Zobel, Dylan Marks, Brianna Caldwell, John Papponetti, Fred Piano, Allyson Irwin and Steven Papponetti.
The 2023-24 fire company officers include:
Jeremy Graham as chief
John Papponetti as deputy chief
James Peruzzini Jr. as assistant chief
Steven Papponetti as captain
Matt Francis as first lieutenant
Fred Piano as second lieutenant
Jeremy Babcock as third lieutenant
Harry Papponetti as chief mechanic
Brianna Caldwell as EMS lieutenant.
The 2023-24 executive committee includes:
Nathan Bloom as president
James Harris as vice president
Kristen Marciszewski as financial secretary
Kelly Irwin as assistant treasurer
Christine Bloom as secretary
Janet Cheverie, Dylan Marx and Kristen Marciszewski as directors.
Years of Service Awards:
5 years – Chrissy Bloom, Kristen Marciszewski, Nick Pahura and Paul Urquhart
10 years – Jeremy Babcock, Andrew Cheverie, Janet Cheverie, Dawn Marciszewski, Susan Papponetti, Jim Peruzzini, Beau Piskorowski and Barb Szklany.
15 years – Adam Fisher and Will Francis Jr.
20 years – Jenny Johnston
25 years – Scott Papponetti
40 Years – Mike Salvatore
45 years – Tim Irwin