Electric charging stations turned on at Hoag Library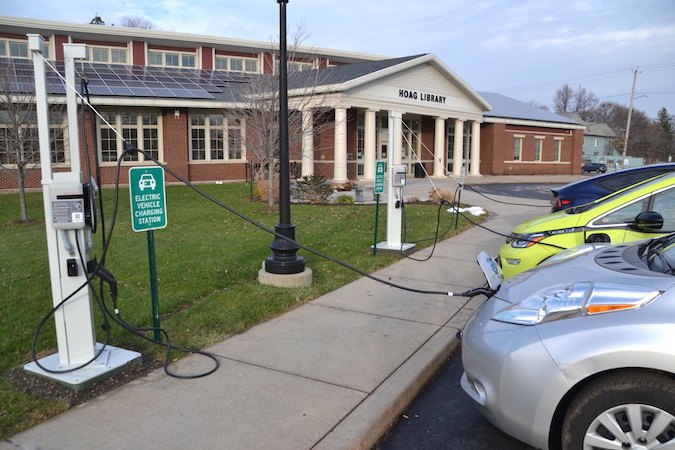 Photos by Tom Rivers
ALBION – Four new electric charging stations were turned on at about 2:45 p.m. on Friday in the Hoag Library parking lot. Three electric car owners parked and got a charge at the new units, which were almost completely funded with grants.
Hoag Library used $23,000 in a Charge Ready grant from New York State Energy Research and Development Authority (NYSERDA) and $1,000 from National Grid to cover nearly all of the $24,809 expense of putting in the four charging stations.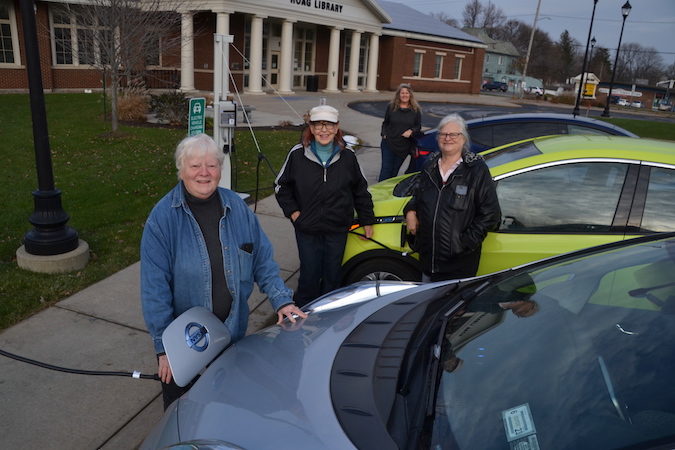 The first three people to pull up for a charge included Grace Kent, in front, with a Nissan Leaf; Diana Dudley in middle at left and her niece Hillary Clark with a Chevy Bolt; and Linda Weller in back with Tesla.
Weller is the library's board president and Dudley also serves on the board of trustees. The library has worked 2 ½ years through the grant process to have the charging stations installed. Weller praised library director Betty Sue Miller for her diligence in seeing the project to completion. The units were installed by Gofoth Electric in Albion.
Weller has owned her Tesla since October 2020. The vehicle has a range of 311 miles before needing a charge. She has driven it to New York City, the Thousand Islands, Pennsylvania and Ohio.
Sometimes she stops in a community to charge her vehicle and she will go explore the town while the vehicle is powered up. She expects the charging stations at Hoag will bring some people to the Albion community.
There are also public charging stations in Orleans County at the Burger King in Medina and the RTS Orleans/Orleans County DPW on West Academy Street in Albion.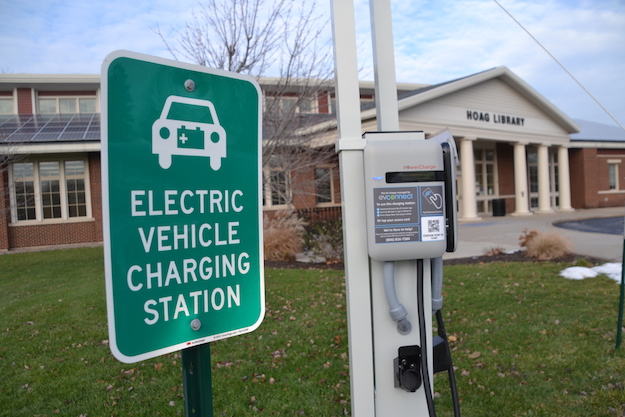 People can charge their vehicles for free at the library, with Hoag paying the cost of the electricity. The library has solar panels on the roof, and library officials wanted to use that renewable energy to power the vehicles.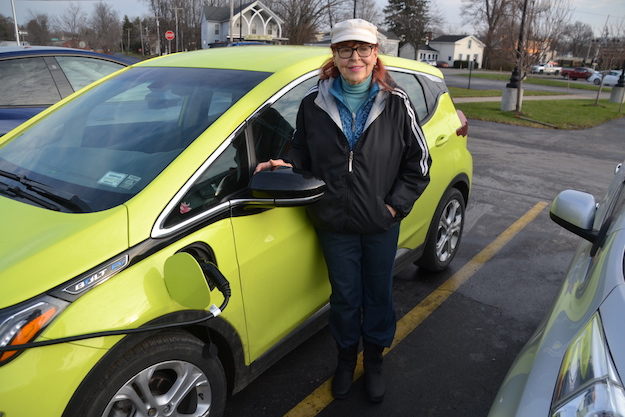 Diana Dudley, 87, has owned her Chevy Bolt for three years and driven the car 30,000 miles.
"I love it," she said. "I would never go back to a gas car. You just get in and go."
Grace Kent, owner of the Nissan Leaf for three years, doesn't miss paying for gas. She said the electric car gives her a warning when it's low on charge, just like a gas car when it's low on fuel.
"People think it will just stop on you, but it won't," she said. "It switches to turtle mode to tell you to get to a charger. Overall, I love it. It's environmentally friendly and very serviceable."