Eileen Banker takes the oath as new Albion mayor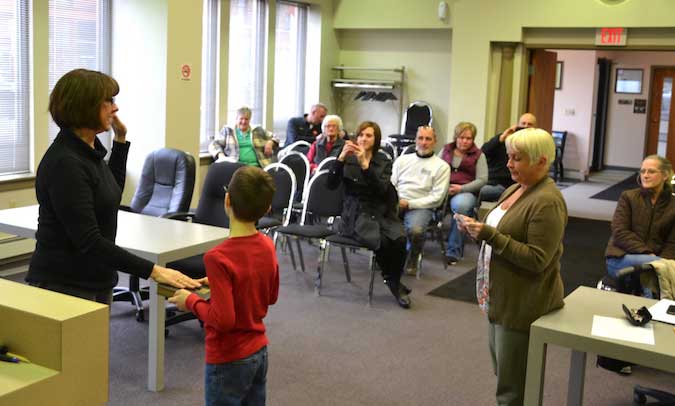 Photos by Tom Rivers
ALBION – Eileen Banker takes the oath of office today while her grandson, Connor Wlliams, holds the Bible. Linda Babcock, the village clerk/treasurer, administers the oath to Banker, who was elected on March 20.
Banker was previously on the board for eight years as a trustee. She succeeds Dean London, who didn't seek re-election.
Banker works as the chief of staff for Assemblyman Steve Hawley. She said the board will be especially busy the next month putting together the village's budget for 2018-19.
Banker and the two other victors from last month's village election – Stan Farone and Gary Katsanis for village trustees – were all sworn into office at 6 p.m. today. Then the Village Board held its organizational meeting and approved a list of appointments, including.
• Banker named Gary Katsanis as deputy mayor. She had served in that role the previous four years.
• Appointed Linda Babcock as village clerk/treasurer, registrar of vital records and the fair housing officer, all for two-year terms;
• Named Mary O'Sullivan as the deputy clerk/treasurer and deputy registrar of vital records;
• Reappointed John Gavenda as village attorney for two years;
• Named Christine Buongiorne to another five-year term on the Village Planning Board;
• Appointed Chris Kinter to a five-year term on the Zoning Board of Appeals;
• Named the following to the Recreation Committee: Carly Ward, Michael Beach, Terry Wilbert, Saul Harrison, Annette Finch and Bernie Baldwin;
• Appointed Kim Pritt to the Historic Preservation Commission;
• Elissa Nesbitt was appointed as the mayor's representative to the Hoag Library board of directors;
• Named the following to the Grievance Committee: Carol Tibbits, Pam Davies and Lisa Hicken;
• Appointed Ron Vendetti to serve as the village's disaster coordinator;
• Named The Daily News of Batavia as the official newspaper to carry legal notices;
• Set the mileage reimbursement rate at 50 cents.
(Editor's Note: An earlier story had Kim Pritt as the mayor's representative on the Hoag Library board. Elissa Nesbitt will serve in that role for the mayor.)