Easter Bunny spreads some joy in local appearances
Director of child care center delivers treats to Medina families
MEDINA – The hardest part of Kim Southcott's job is not being able to go to work.
Southcott is director of Praising Kids Child Care Center, the facility run by Medina United Methodist Church in their former church building on West Center Street. The center has been closed for three and one-half weeks due to the government-mandated shutdown caused by the coronavirus pandemic.
"Even though we can't be open now, I wanted to do something to show the children I care," Southcott said. "Even when I'm home, I never stop working. The first thing when I wake up in the morning, I think of the children and how I can help them."
She thought it was important to do something to give the families a little bit of hope in this trying time.
Southcott contacted the board and got permission to compile Easter bags for the children. Several of the child care center's dozen teachers and board members made donations and Southcott footed the bill for the rest. She purchased bags, candy bunnies, chocolate eggs, Nerds, crayons, paints and Peeps for the children to paint, on which Brushstrokes gave her a deal.
She also wanted to make sure each family had food and included food items, such as tuna fish, noodles and peanut butter in each bag. Some of the board members contributed encouraging notes.
Then she texted or contacted each family she felt wouldn't be home and set out Thursday and Friday to deliver nearly 50 bags.
"The children were excited and the parents were very grateful," Southcott said.
She said she left each of the bags on the family's porch, and her reward was seeing the children's smiling faces as they waved to her through the window.
"Even though we can't be open now, this was a way to show the children and their families we care," she said.
Easter Bunny pays a visit in Middleport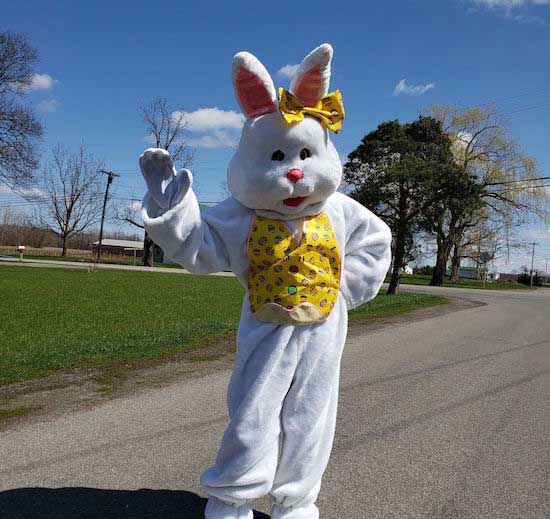 Provided photo: Kelsey Huwley dressed up as the Easter Bunny and rode in the back of a truck around Middleport on Saturday.
"Just trying to bring some Easter joy to the people in my community," Huwyler posted on Facebook.