Eagle Scout project gives Mount Albion signs new look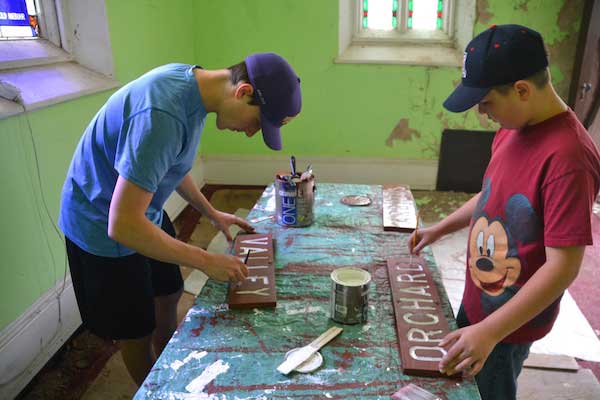 Photos by Tom Rivers
ALBION – Freeman Lattin, left, and Ethan Merrill work on painting the signs in Mount Albion cemetery this afternoon. The project includes 80 signs and is Lattin's Eagle Scout community service project.
Freeman is about halfway done with removing the signs, repainting them, and then reattaching them to poles throughout the historic cemetery on Route 31. He expects it will take a few more workdays on Tuesday evenings and Sunday afternoons to get all of the painting done.
The signs used to be red, and are being repainted brown.
Freeman ran cross country for Albion and the team had many training runs at the cemetery. Freeman noticed just how busy the cemetery was for people jogging, walking dogs or visiting the graves of loved ones.
"Mount Albion gets a lot of foot traffic," he said. "The cemetery is really alive."
Repainting the signs is a practical project that will be useful to the many cemetery visitors, Freeman said.
Freeman, a member of Troop 164 in Albion, has been in Scouts for about a decade.
"I've made some of my best friends in Scouting," he said.
He also appreciated the opportunities to go camping, including a 50-mile hike in Michigan and a hike in New Mexico at the Philmont Scout Ranch.
He will attend SUNY Albany in the fall to major in economics.