DWI crash simulation sends powerful warning to not drink and drive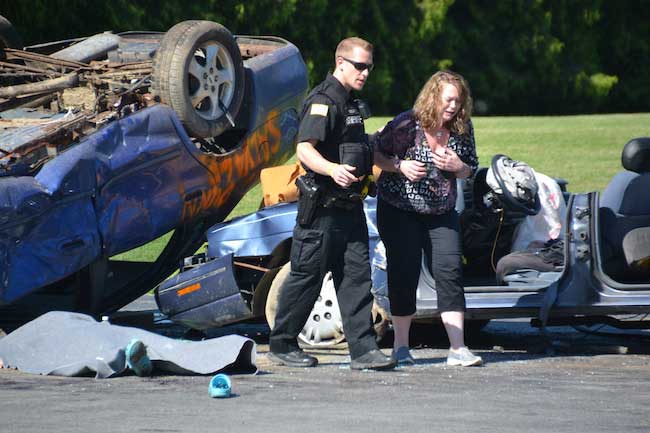 Photos by Tom Rivers
LYNDONVILLE – Kim Bow, an administrative assistant at Lyndonville Central School, portrays a grieving mother this morning during a DWI crash simulation at the school. She is led from the crash scene by Deputy Tory Tooley.
The school has been doing the simulation before prom and graduation party season for several years, trying to send an important reminder to students to not drink and drive.
Lyndonville and Medina firefighters volunteered in the simulation today, using extrication tools to pull students out of the vehicles.
"We know this would devastate our community just to have one accident," Lee Dillenbeck, the school's athletic director and dean of students.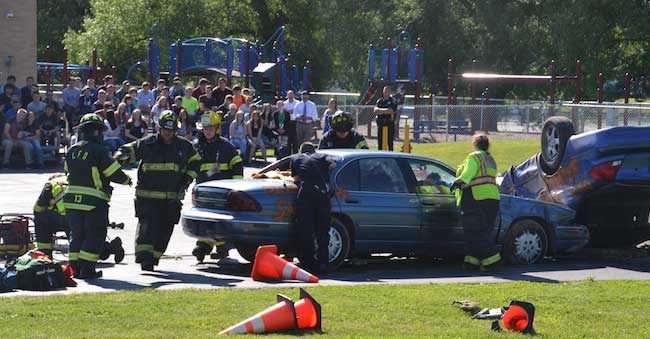 About 200 students watched first responders work to help students in the vehicles. The students wore makeup to appear bloodied. Three students were put on stretchers and put in ambulances. Two students had blankets placed on them to signify their deaths.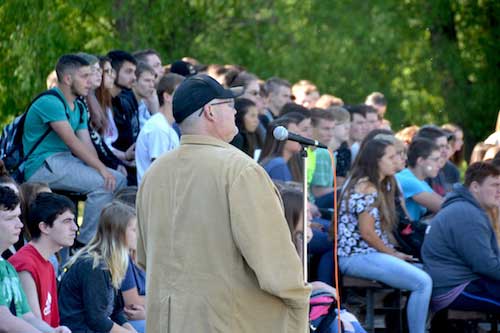 Ken Strickland, an investigator with the Orleans County Sheriff's Office, explains to students why firefighters are using different tools to extricate the students. Strickland said first responders see many fatal accidents from drunk driving in Orleans County.
"Some of these people take months to recover," Strickland said. "Some of them never get over their injuries."
Strickland said students that drink alcohol, even one beer, can impair their ability to drive and have tragic consequences.
"Everybody will have some guilt that they will carry the rest of their lives," Strickland said.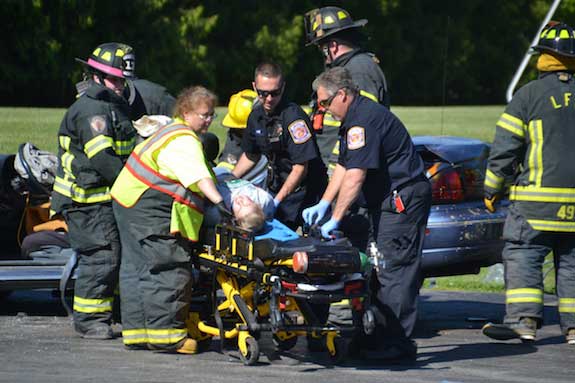 Natalie Allen is one of the students who volunteered to be a victim in a crash this morning. She is carried from the car to a stretcher.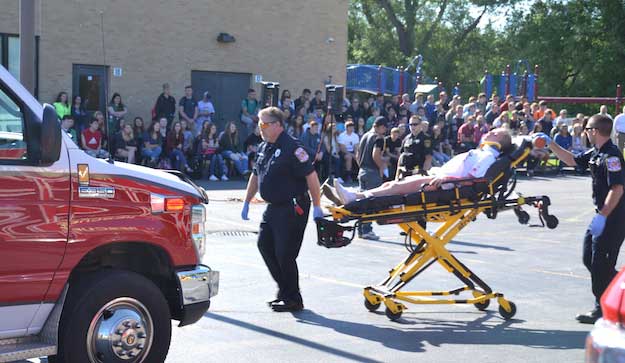 Another student, Kelsi Spada, is led by stretcher to an ambulance.
Jason Smith, the school district superintendent, thanked the volunteers during today's simulation.
"We want to keep the message strong and send an important reminder," he said.
Lyndonville has its prom on Friday night at the White Birch. Then there will be many graduation parties this summer.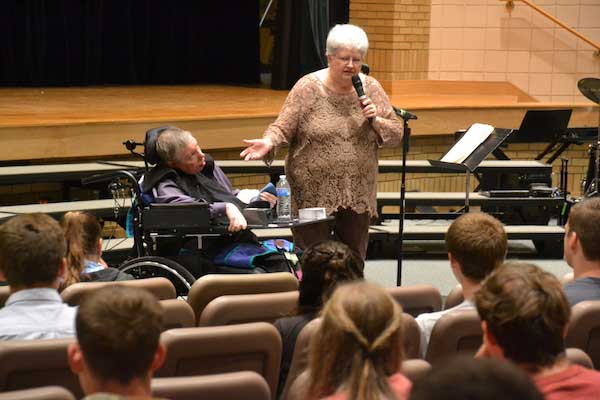 After the simulation, students attended a presentation by Justin A. Randall Jr. and his aide, Julie Flanagan.
Randle was 21 in 1982 when he was involved in a serious car accident while driving drunk. He has been in a wheelchair since 1982, can't communicate with his voice and lives in a community residence staffed by the state in Mount Morris.
Randle was a star athlete at Cal-Mum in Livingston, leading the football and basketball teams. He also was one of the region's top tennis players.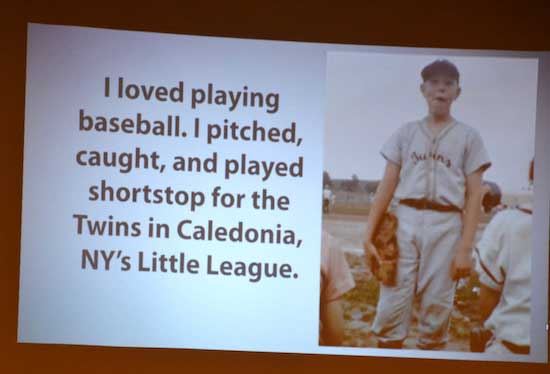 Randle, an "All-American kid," played youth sports and had lots of friends at Cal-Mum.
He now communicates with his eyes, through a beeper and with special software where he can write out messages.
He told students, "To think before you drive or ride."
Flanagan said a drunk driving conviction can also keep them from jobs, getting loans an scholarships, as well as costing them several thousand dollars in fines and legal fees.
She urged students to resist peer pressure to drink alcohol. They don't need alcohol to have a good time, she said.
"How do you protect yourself?" she asked. "You do not drink and drive a vehicle. You do not ride in a vehicle with someone who has had a drink."