Dump truck parade honors retired Murray highway superintendent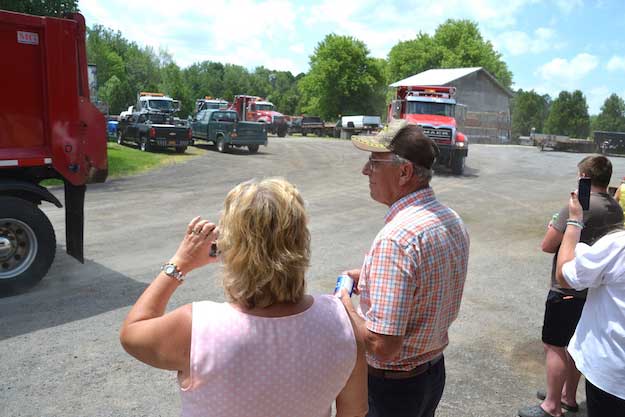 Photos by Tom Rivers
MURRAY – Ed Morgan and his wife Dorothy watch a parade of dump trucks pass by his garage at his home on Hulberton Road today in a surprise tribute.
Morgan retired on May 31 after 30 years as the town highway superintendent. Trucks and highway leaders from the 10 towns in Orleans County visited Morgan today. It was also a meeting for the Orleans County Highway Superintendents Association, which Morgan led as president on multiple terms. The group decided to recognize Morgan and show their appreciation for his years of service to the town and also for his assistance to the other highway leaders.
Click here to see a video of the truck parade.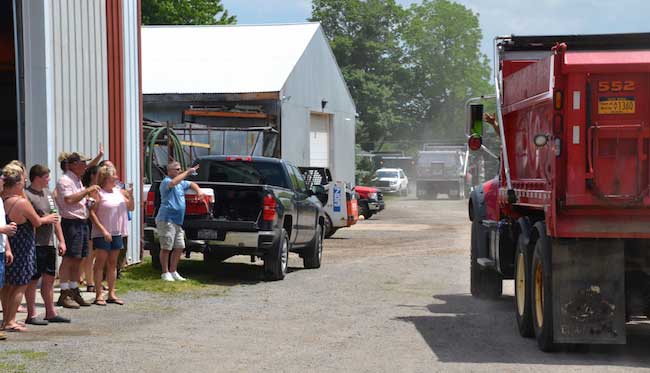 The trucks roll past Morgan's garage. He was joined at a mini-retirement party by some family members and highway workers across the county.
"We felt he deserved some recognition for his years of service," said Mike Neidert, Albion town highway superintendent and president of the Orleans County Highway Superintendents Association.
The truck parade "was something extra" for Morgan. The highway group would like to recognize him in August at the group's next meeting, when Neidert hopes some Covid-19 restrictions will be lifted to allow larger social gatherings.
Neidert has been the Albion superintendent for about 5 years, and a highway worker for 24 years. Highway leaders and employees felt comfortable reaching out to Morgan for advice.
"He was always someone you could go to with questions," Neidert said.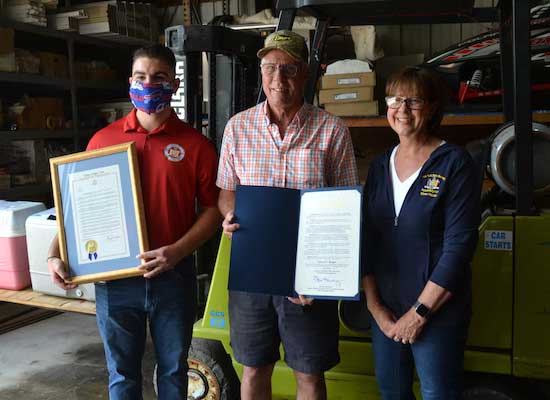 Ed Morgan is pictured with Josh Veronica, director of community relations for State Sen. Rob Ortt, and Eileen Banker, chief of staff for Assemblyman Steve Hawley.
The State Senate approved a Legislative Resolution on May 27 commending Morgan for a 30-year career.
Morgan helped the town construct nearly 60 miles of water districts during his tenure. As highway superintendent, he oversaw 30 miles of town roads, and was responsible for plowing 17 miles of county roads and 16 miles of state roads.
He also helped put in the infrastructure for the Holley Business Park, made improvements to the town hall and highway department facilities, including construction of a new salt storage building, as well as a computerized fuel system to better serve the town and first responders.
Morgan served multiple terms as president of the Orleans County Highway Superintendents Association.
"For three decades, Edward F. Morgan rendered faithful, conscientious and valuable service to the Town of Murray, truly earning the admiration, esteem and affection of his colleagues," according to the Senate resolution. "Rare indeed is the occurrence of such a compassionate blending of strength, leadership, intellect, and commitment as that demonstrated by Edward F. Morgan over a lifetime of sacrifice and dedication to others."
The State Assembly also approved a citation for Morgan.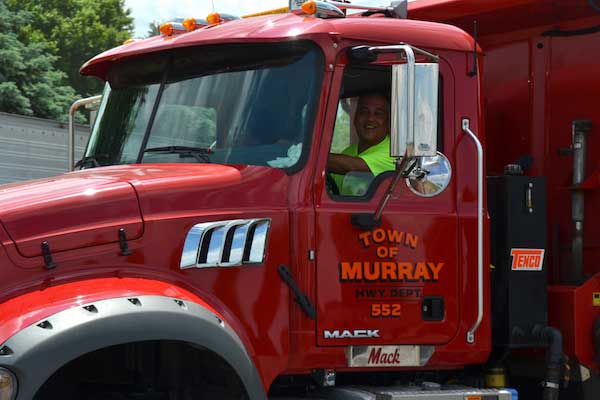 Dennis Mandigo joined the dump truck parade to honor Morgan. Mandigo has worked 20 years as a motor equipment operator for Murray.
"You couldn't find a better man," Mandigo said about Morgan. "He's been a great boss and a great friend."