Dubby's to debut new location featuring many indoor tailgate games
'Fowling' and 'soccer pool' among the activities at 10,000 square-foot warehouse in Albion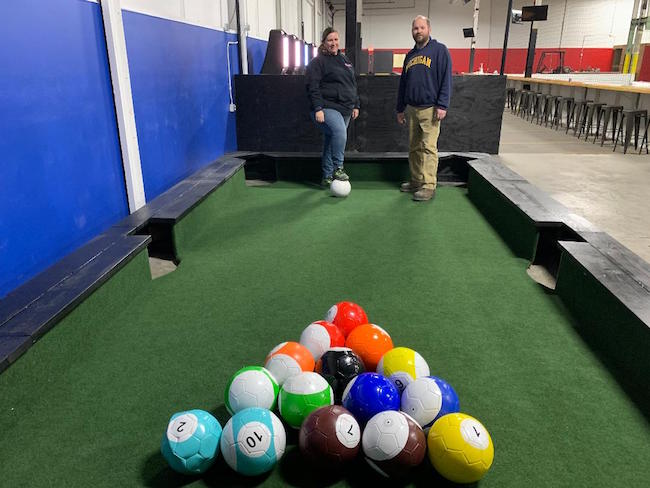 Photos by Tom Rivers
ALBION – Rebecca and Brian Alexander are shown with one of their new games – "soccer pool" – that will be offered at Dubby's Tailgate at 165 Platt St. in Albion.
The couple has operated the popular Dubby's Wood Fired Pizza the past three years. They will continue to run that mobile business while starting a new venture next week.
Dubby's Tailgate will open on Wednesday from 3 to 10 p.m. with many backyard or tailgate games at a 10,000 square-foot warehouse previously used by Helena.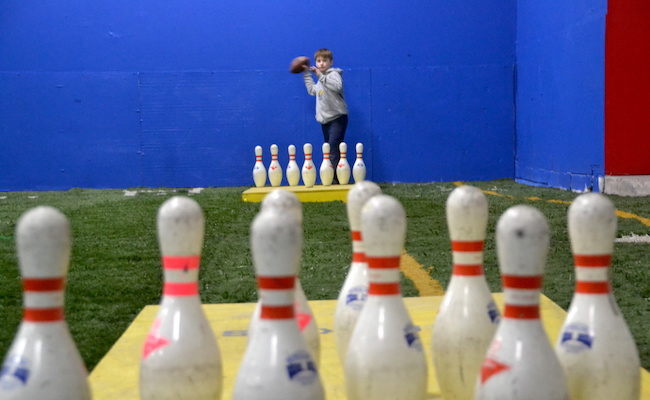 Barret Alexander, 10, eyes the bowling pins as he gets ready to throw a football about 30 feet. "Fowling" combines football and bowling in one of the games offered at Dubby's Tailgate.
There are nine sets of throwing lanes on the artificial turf. Cornhole will also be available.
The Alexanders say the business will be "a house of competition" for people to have fun indoors.
They will have the games ready next week, with a restaurant offering pizza and alcohol in the spring. For now the food options will be snacks and soda.
Brian and Rebecca are Carlton residents. They looked at sites in Brockport and Batavia for the business but decided on Albion, where they said the community has been very supportive of their mobile pizza business.
"Albion is where we started," Rebecca said. "The community has been so welcoming."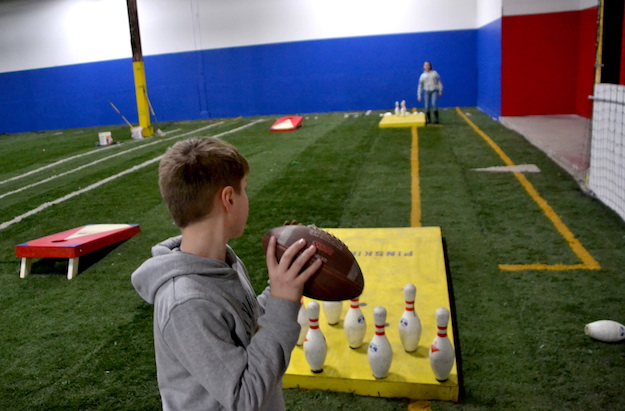 Barret Alexander gets ready to throw the football in a game of "fowling" against his sister, Abigail, 11.
The person who knocks down all of the pins first is the winner.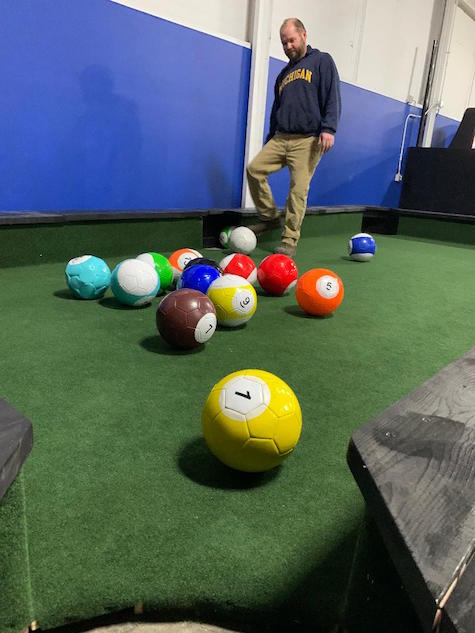 Brian Alexander tries soccer pool, where players use a soccer ball to knock balls in the pockets. Players can do trick shots, kicking the ball over some balls to hit the target.
Alexander, a civil engineer, built many of the games and tables with some help from friends. He repurposed bowling lanes for tables at Dubby's Tailgate.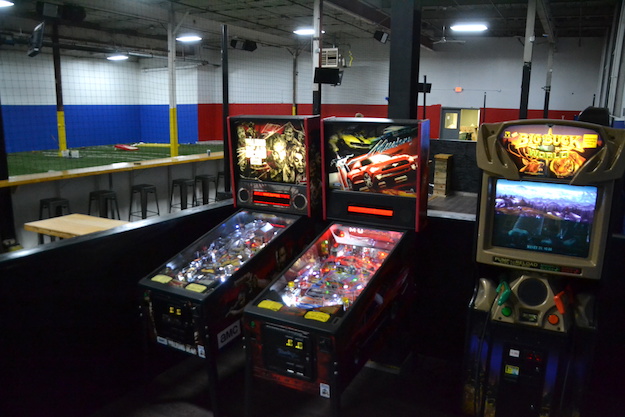 Pinball machines are among the activities at the new business.
Dubby's Tailgate charges a $5 admission and then different costs for games, although some are free. Soccer pool is $30 an hour for groups of up to six. Fowling is $10 for unlimited play.
The venue will have 17 televisions, including two giant TVs. The Alexanders also want to display faces of community members to create the feeling of being in an arena.
They also plan to use the large parking lot to host events, including truck shows where people are welcome to cruise in and stay with their tailgates down.