Driver avoids head-on collision but hits house on 31 in Albion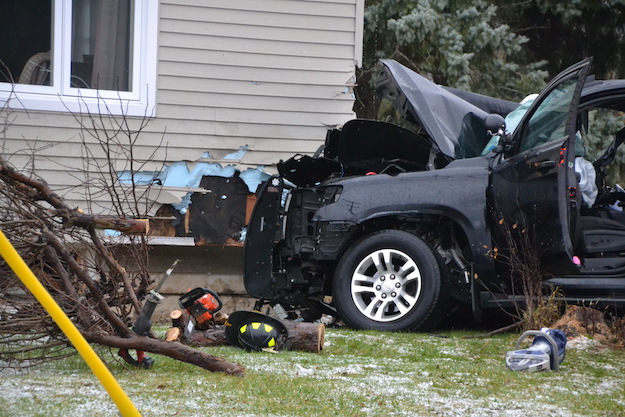 Photos by Tom Rivers
ALBION – A driver of a Chevrolet Tahoe hit a house today on Route 31 after avoiding a head-on collision, a state trooper said.
Another vehicle entered into the westbound lane due to slushy roads at about 11:15 a.m. The driver of Tahoe swerved and left the road. It went across the lawn on the northside of the road, just west of where 31 intersects with Tuthill and Densmore roads, and hit the house.
The driver had a head injury and complained of pain in a leg. The driver was taken by COVA ambulance to a nearby hospital.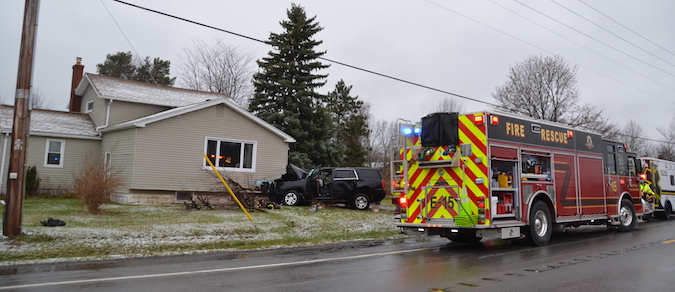 The homeowner was inside the house when the residence was struck by the vehicle. The homeowner wasn't injured, the state trooper said.
The structure appeared to shift due to the impact. Dan Strong, Albion code enforcement officer, was on scene to inspect the house.
Albion firefighters, Orleans County Sheriff's deputies, Orleans County Emergency Management and the state Department of Environmental Conservation also responded to the scene.
UPDATE at 3:56 p.m.: Undersheriff Mike Mele was the driver of the vehicle that struck the house. He is being treated at Strong Memorial Hospital in Rochester for head and leg injuries.