Dowser, using divining rod and pendulum, tries to summon badly needed rain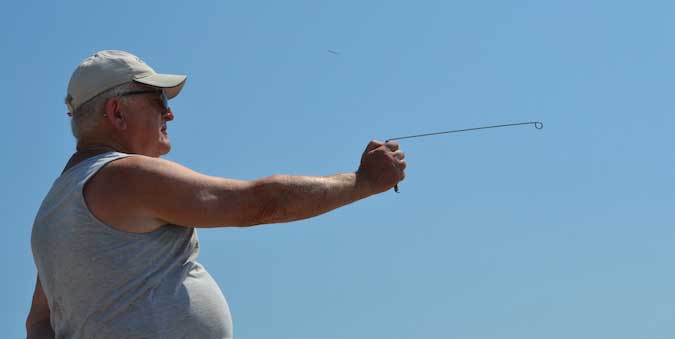 Photos by Tom Rivers
ALBION – Dave Porter, a dowser from Wellsville, visited Watt Farms in Albion today, trying to summon rain. He holds a divining rod which directs him to a spot in an orchard off Route 98 near the Watt Farms Country Market.
Porter, 73, is a retired school administrator. For the past 18 years, he has been a dowser, helping people find water as a hobby. He usually is called to help find an ideal spot to drill a well or to locate a spring. Today was his first time trying to activate rainclouds.
"You have to connect yourself to the earth because the earth has all kinds of energies," Porter said.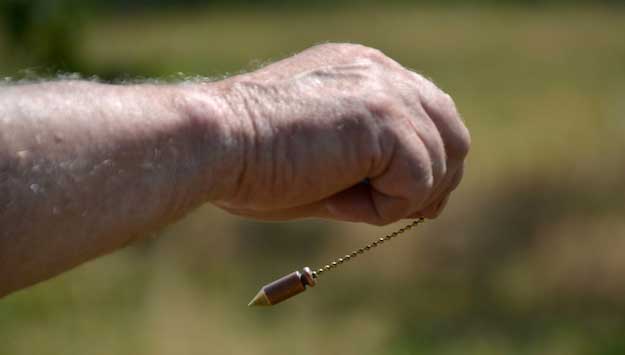 Porter holds a pendulum that was swinging wildly in the first row in the orchard, just south of the road behind the farm market. When the pendulum swings in a fast pace, Porter said there is a lot of energy in that location.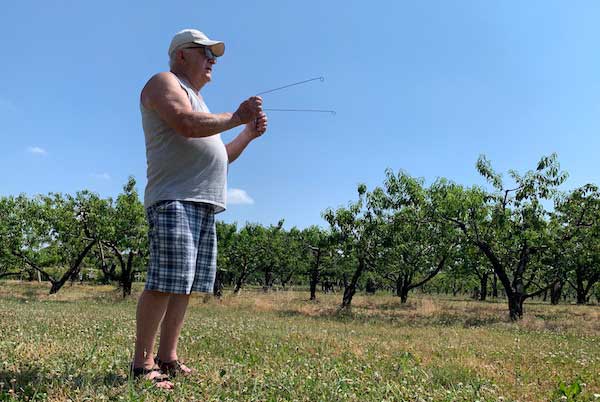 Then he brings out two divining rods. He asks a higher being for permission to be a dowser in that location. If the rods cross, the answer is yes. He received that OK and then requested permission to ask for rain to come to the area. The divining rods again crossed, signifying "yes." Porter said he doesn't cause the rods to either cross or move apart.
Porter asked if there would be significant rain in a week? The divining rods moved apart, for a "no" answer. He asked if it would be in five days, and the rods stayed apart. He asked if it would be four days – again they wouldn't cross.
When Porter asked if there would be a significant rain in three days, the divining rods slowly crossed.
He asked if it would rain in two days, but the rods stayed apart.
He believes the divining rods are predicting rain in 3 to 3 ½ days. This was on Wednesday at 11:30 a.m. That would mean the area should expect rain on Saturday.
"We'll see what happens," he said.
Karen Watt of Watt Farms invited Porter to try dowsing at the farm. She said the local farms are in dire need of rain. The region could use a major soaking. That could make a $50 million difference on the local agricultural economy, she said.
"We need a whole day of nothing but rain," she said.