Downtown Albion building hit with car, sustains minor damage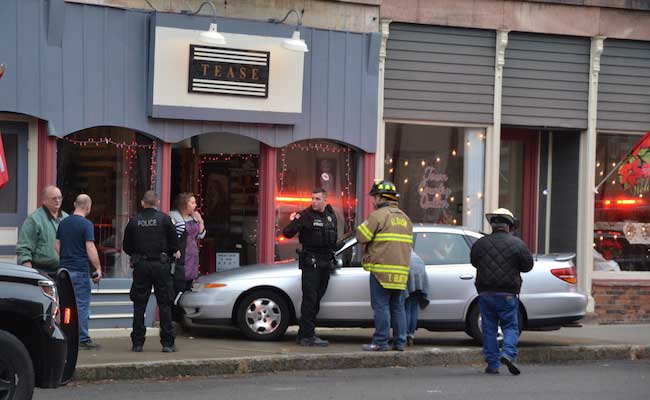 Photos by Tom Rivers
ALBION – Albion police and firefighters respond to an accident just before 1 this afternoon when an elderly driver drove over the curb and ran into Tease, a hair salon at 12 East Bank St.
The driver didn't appear to have a medical issue. She apparently made a mistake and hit the gas pedal, an Albion police officer said. She was looked at by COVA personnel and she signed off without needing treatment.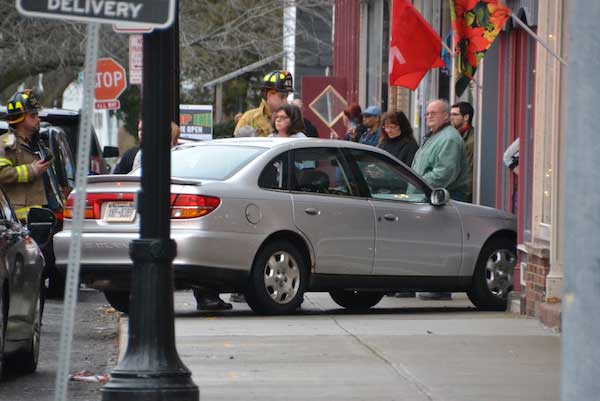 Kylie Hughson is the owner of Tease. She was inside with three customers when the car hit near the front door, shifting the door frame.
"It was a big boom and the whole building shook," she said.
Ron Vendetti, Albion's code enforcement officer, is the owner of the building. He called Jim Babcock, a local contractor, to make the repairs to the door frame. It will need to be pushed back into place. Babcock said a cast iron post seemed to absorb the blow.
He will work on the building after Hughson takes care of her customers. Babcock said he expects to have the door frame back in place in time for Hughson to open the business on Saturday.