DOT making some sidewalks ADA compliant in Albion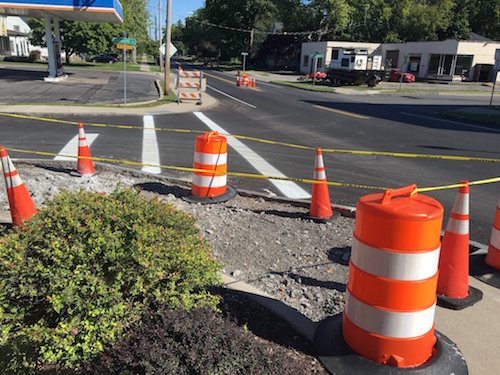 Photos by Tom Rivers
ALBION – This section of the sidewalk in front of the Lake Country Pennysaver at 170 North Main Street was removed and a new one will be put in that meets Americans with Disabilities Act standards for slope pitch, the state Department of Transportation said.
There are eight sidewalks that are receiving some work to meet ADA standards on Route 98 in Albion. Keeler Construction is doing the work for the DOT.
The sidewalks are an add-on to the paving project that is nearly done on 5 miles of Route 98 in Albion, from Route 104 going south.
Keeler started the $2.3 million paving project the week of July 18, from Route 31A to Route 104. The 5-mile section of highway has been milled and paved with new asphalt from curb to curb.
New pavement markings also have been added, and bicycle and shared lanes will be indicated through the village of Albion.
The project also includes rumble strips on the center line and the shoulders along the stretches of Route 98 that do not run through the village. Tactile strips on sidewalk ramps at intersections also will be included to be ADA compliant.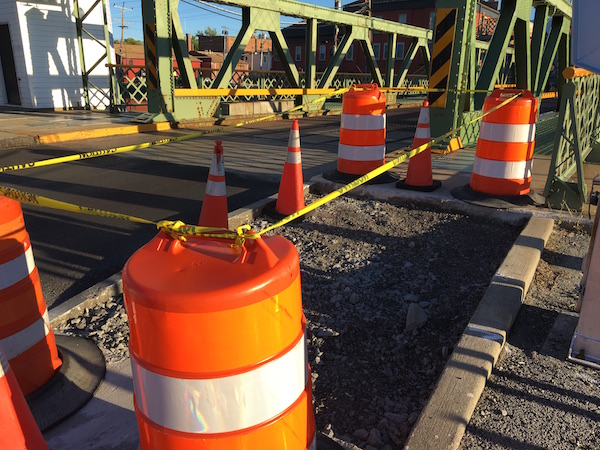 This section of the sidewalk is at the northwest section on the sidewalk by the Main Street lift bridge. Some of the sidewalks were too steep or didn't have the proper angles and pitches on the ramps. Some sidewalks in Albion will be sanded down less than an inch to meet ADA standards, the DOT said.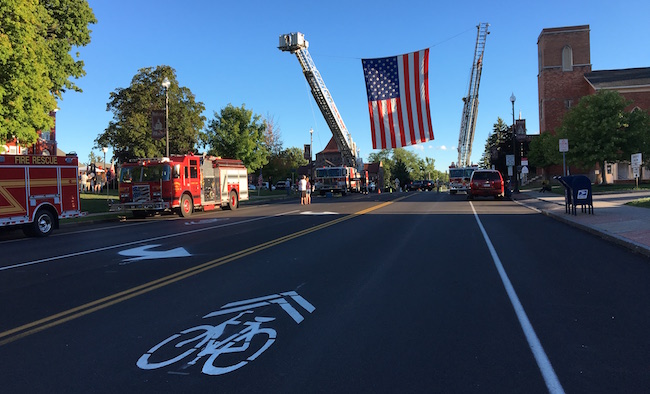 Route 98 now includes bike symbols to direct people on bicycles and remind motorists to share the road. This photo was taken on Sunday during the Sept. 11 memorial service was a section of Route 98 was closed and a giant American flag hung from the Albion and Medina ladder trucks.
The paving project should be complete next week after final striping, with yellow and white lines.