'Don't forget to write' – Preserving ties and documenting history with letters
Historian bemoans technology's assault on handwritten letters
By Catherine Cooper, Orleans County Historian
Illuminating Orleans, Vol. 2, No. 8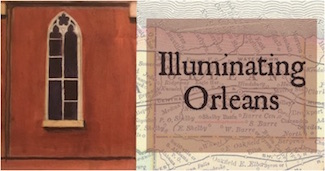 The letter pictured above includes the following passage:
"We are in the midst of Civil War. There is (sic) about 3,000 US troops at Kansas City, a detachment came down to Liberty and took 80 secessionists prisoners today. I took seven US sabers, one army pistol and a keg of powder from a secessionist wagon……..
The letter ends:
"I was never so nonplussed in my life. Two months ago, I was the happiest man alive. Since then I have had the bronchitis and my school is broke up. Every kind of business is at a stand, no money, no circulation, can't collect anything for a year….and last, but not least, my wife's health is not as good as I could wish it.
Note: While living in Missouri in 1864, Josiah Jaquith was shot and killed by Southern sympathizers for his Union sentiments – Signor
---
Personal, handwritten letters have long been the main means of communication for those separated by distance. Technology's assault on letter writing began with the invention of the telephone in 1876 and continued as phones became more accessible and more affordable.
However, the widespread adaptation of internet technology for personal communication in the past ten years caused a huge decline in letter writing. The immediacy of contact and response to emails and texting is addictive. Why would we ever write a letter again? Handwriting! Who can read it? No delete or spell-check! We are too busy to take the time, too harried to compose, too impatient to wait for a response.
But those very elements – time, thought, composition – make letters precious. Letters are also sensory. We hear the plop of the letter in the letterbox, we feel the paper, we see the stamp design, we read the handwriting, we absorb the contents. We may keep the letter if we choose, or we may have the satisfaction of ripping it, burning it, balling it up and tossing it, if so inclined. Much more satisfying than replying with emojis.
Remarkably, many letters have been saved and have survived time and often unfavorable storage conditions. Reading one is like stepping back in time. The Orleans County History Dept. collection includes letters from the 1830s written to Cyrus Jaquith (1799-1866) in Barre. (Incidentally, Mr. Jaquith was married to three sisters: Amanda Bloss, who died in 1835, Percy Bloss, who died in 1838 and Anna Bloss, who survived him and died in 1876.)
The earliest letters in this collection were written on large sheets of paper folded in such a way as to form an envelope. The 1834 letter is addressed to Mr. Cyrus Jaquith, Albion, NY, with the instructions: To be left at Albion Post Office in Orleans County, state of NY.
A collection of over 160 letters written by Cora Beach Benton of Albion to her husband Charlie who was serving in the Union Army with the 17th New York Artillery, describes daily life during that time, the financial difficulties faced by those at home and general attitudes to the war. The letters were painstakingly transcribed by Tom Taber into a volume called Hard Breathing Days which is available at NIOGA libraries. These letters show why historians value letters for research: letters convey how people thought and felt at a given time, the writers are describing history as it was happening, the sense of immediacy is palpable.
There is a resurgence of interest in letters. Several websites now offer to mail subscribers a weekly or monthly letter from a historic person, handwritten, on paper or parchment, complete with background material to explain the context.
An English event where real letters are read aloud has become a huge success. LettersLive was first presented in 2013 and most recently attracted an audience of 5,000 at the Royal Albert Hall.  The letters selected were written over the centuries by the famous and the unknown. The readers selected are generally actors, so there is an element of performance to the presentation. Whether sad, happy, amusing or dismaying, the letters selected are moving. Grace Bedell's letter to Abraham Lincoln was featured on the program. It was read by Louise Brealey and Tom Hiddleston.
Inspired by this example, the Medina Historical Society will present a Letters Alive program on at 7 p.m. on Monday, Feb. 28, at Lee-Whedon Memorial Library in Medina. Tom Taber will read a Cora Beach Benton letter. The audience is invited to share aloud their treasured letters.
We each save letters that we cannot bear to destroy. There are surely collections of saved letters in boxes and drawers in your homes awaiting a fresh read. Take an afternoon and step back in time. You may even wish to consider donating the collection to your Town or Village Historian or to the Orleans County Department of History.