Don Draper sworn in as undersheriff for Sheriff's Office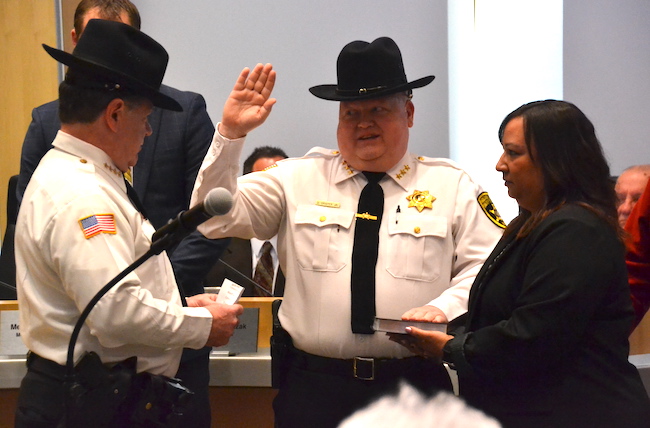 Photos by Tom Rivers
ALBION – Don Draper takes the oath as undersheriff on Tuesday during a ceremonial swearing-in before the County Legislature meeting. His wife Emmy holds the Bible while Sheriff Chris Bourke administers the oath.
Draper replaces Jeff Gifaldi in the role. Gifaldi has retired and works as a code enforcement officer and also part-time in security at Holley Central School.
Draper is a 25-year veteran of the Sheriff's Office. He worked 20 years as a deputy on road patrol and then as supervisor of court security. He most recently has been a sergeant in charge of the civil division.
"I work for the sheriff," Draper said about the role as undersheriff. "Whatever he needs done, I will do it."
Draper is the son of retired Medina Police Chief Don Draper and the brother of Medina Police Department Lt. Todd Draper.
Bourke said the new undersheriff knows all of the positions in the Sheriff's Office "from top to bottom" and has proven to be very dependable and knowledgeable.
"He's a solid guy," Bourke said. "He treats people fairly. That's what I want."
The Sheriff's Office also has a new administrative chief deputy with Steven Ploof. He was unable to attend the ceremonial swearing in. Ploof provides oversight of the Civil Division and the numerous local, state and federal grants managed by the Sheriff's Office, Bourke said.
Brian Marsceill takes the oath of office as an investigator with the Orleans County Sheriff's Office.
Marsceill replaces Shannon Brett, who retired from the position. The other investigators in the Sheriff's Office include Devon Pahuta and Kevin Colonna.
Marsceill started as a deputy at the Sheriff's Office in 2017. Before that he was as a police officer in Medina and Attica.
The sheriff administered the oath for other staff on Tuesday including Amy Sherman, sheriff's accounts manager; Tyler Ajitsingh, corrections officer; Kari Hagglund and Jodi Marion as part-time dispatchers; and Theresa Brien as a civil clerk.