Display at Albion library highlights marching band under Moses Sherman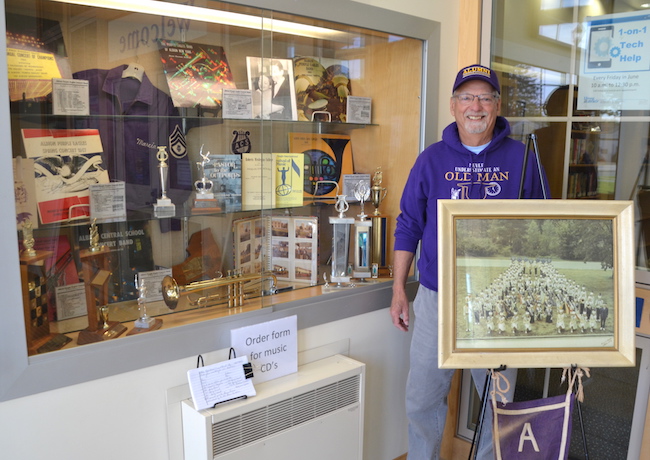 Photos by Tom Rivers
ALBION – Alec Sherman is pictured with a display about the Albion marching band from 1950 to 1975, when the Purple Eagles were led by his father, Moses Sherman.
The display at Hoag Library includes trophies, programs, photos, a band jacket and vinyl records of band concerts.
This display will be up until Thursday. The library rotates exhibits. Betty Sue Miller, the library director, was in Sherman's marching band. She urged Alec to put together the display.
"I thought it was a neat look back at time," Alec said about the exhibit.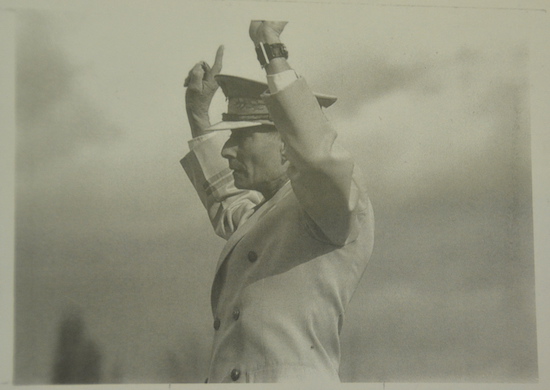 Moses Sherman is shown in action leading the Albion marching band. This photo is from the early 1970s.
Sherman grew up in a small town in Vermont. He earned a degree at Ithaca College and first worked at Tully, a small school district in Central New York. He was hired at Albion in 1950 and stayed until 1975. He finished his career in Massena in northern New York.
Sherman passed away in 1997. His father had tremendous pride in the Albion band, Alec said.
The band performed all over New York, including about 30 times each summer at fire department parades and community festivals. A highlight for the band during Sherman's tenure was a week-long trip to England in 1972. More than 100 students performed in London. The band also performed in Montreal and Toronto.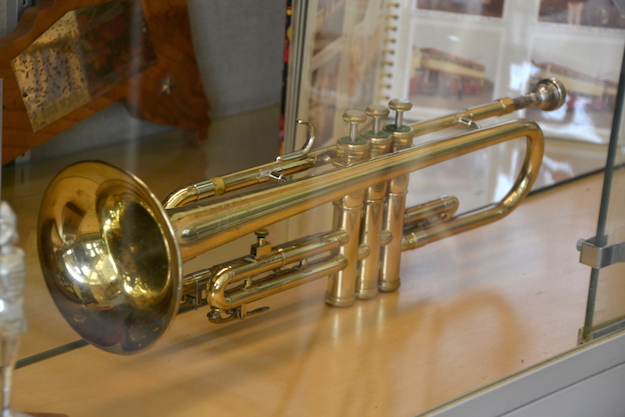 Moses Sherman's trumpet is part of the display at the library.
"He taught them life lessons about dedication and preparation," said Alec, who is a retired U.S. history teacher at Albion. He also coached basketball, softball and track.
Alec also played in his father's bands. Alec played the cornet, a small brass instrument like a trumpet. He graduated in 1968 and saw first-hand his father's devotion to the music program.
Alec Sherman is selling digitally remastered albums, ranging from 1964 to 1974, of the band's concerts. Sherman has recordings from eight spring concerts, which were typically two-hour events.
The remastered CDs are available for $35 each and Sherman uses the proceeds for $500 annual scholarships given each year in memory of his father (to be awarded to a graduating senior who is active in the band program) and also for Alec's mother, Margaret McKirdy Sherman, who was a teacher at Albion. Her scholarship is a humanitarian award going to a graduate with a record of community service.
For more information about the CDs, contact Alec Sherman at alecsherman1950@gmail.com or click here for more information on the Albion Alumni Foundation website.