Dispatch handled nearly 500 calls while wind raged
The Orleans County 911 dispatch center was busy today, handling 446 calls during the peak of the high winds from 11 a.m. to 7:45 p.m.
The county usually has two dispatchers on each shift but boosted the total to six at about 1:15 p.m.
Sheriff Randy Bower, who was a dispatcher for nearly 30 years before being elected sheriff in November 2015, said today was one of the most extreme weather events of his career, topped perhaps only by the ice storm of 1991.
"Today is one of the worst I've seen," Bower said about the damage that strained local emergency resources.
Dispatch handled 446 calls during the peak of the high winds. That included two tractor trailers that were knocked over by the wind with one in Shelby on South Gravel Road near Fletcher Chapel Road and the other in Barre on Quaker Hill Road near Delano Steel Road.
Another tractor trailer was caught in downed lines but was able to drive out on South Gravel Road near West Avenue Extension in Medina.
Dispatch handled 53 calls for downed wires, 14 for poles that were knocked down, seven calls for wires arcing and one pumping detail.
National Grid told the county that at least 90 poles were down in Orleans.
In addition, two people were injured at the Monroe/Orleans Countyline Trailer Park when they were struck by a shed that was fast moving from the wind. Those injuries weren't life threatening, according to dispatch.
Bower and the team of dispatchers thanked firefighters, highway department workers, EMS crews, and law enforcement officers for all of their effort today.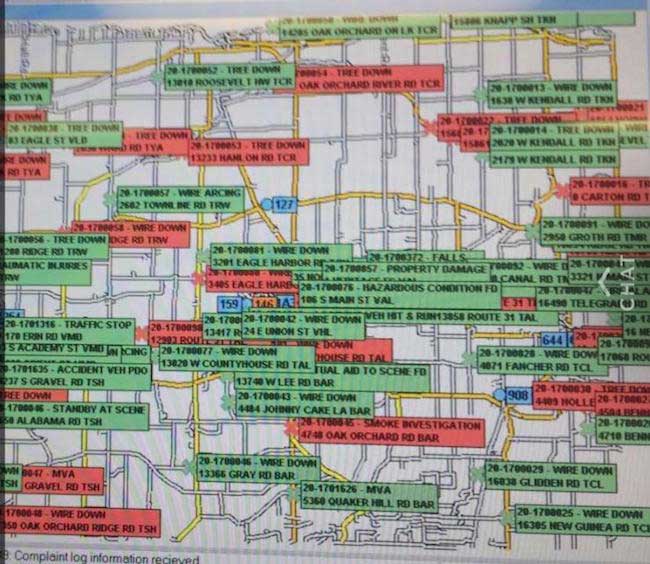 Courtesy of Sheriff Randy Bower
This map shows some of the calls coming into dispatch on Wednesday. The red calls are pending and the green calls are being handled.