Disbanded Auxiliary Police gives $500 each to 3 organizations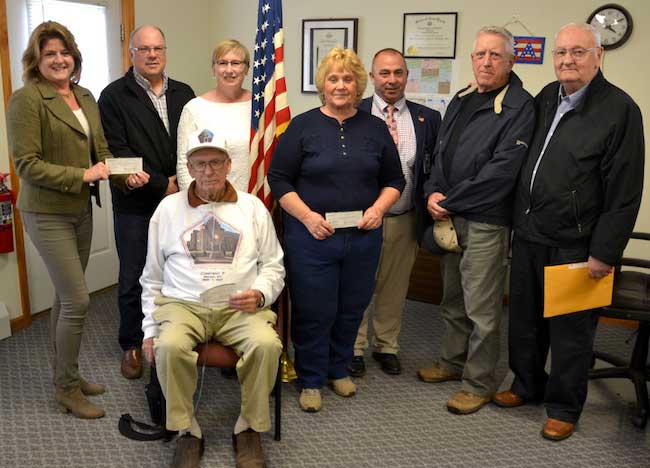 Photo by Tom Rivers
ALBION – The Auxiliary Police, which started in 1952 in Orleans County, was disbanded in December due to liability concerns from the county and the group's declining membership. The Auxiliary Police were down to seven members when the group ceased. The auxiliary police still had $1,500 in its account from fundraisers. The group's leaders decided to give the funds away. It picked Camp Rainbow, the Company F memorial statue effort, and the Orleans County Joint Veterans Council Medical Van Service. The Medina Sandstone Society is working on the Company F memorial by the former Armory in Medina, which is now a YMCA.
Pictured this afternoon include, from left: Shelley Falitico, director of development for the Arc of Genesee Orleans (which owns Camp Rainbow in Ridgeway); Wayne Hale from the Medina Sandstone Society; Bill Menz (sitting) from the Sandstone Society; Lynne Menz from the Sandstone Society; Phyllis Schrader, coordinator of the Medical Van Service for veterans; Earl Schmidt, Veterans Service Agency director in Orleans County; Dave Thom, former lieutenant with the Auxiliary Police; and Jack Monell, former commander of the Auxiliary Police.
The Auxiliary Police provided crowd control at the 4-H Fair, football games, festivals and other community events. Thom volunteered with the group for 27 years and Monell was an active member for 47 years.