Diesel Technology program at O/N BOCES grateful for business partnerships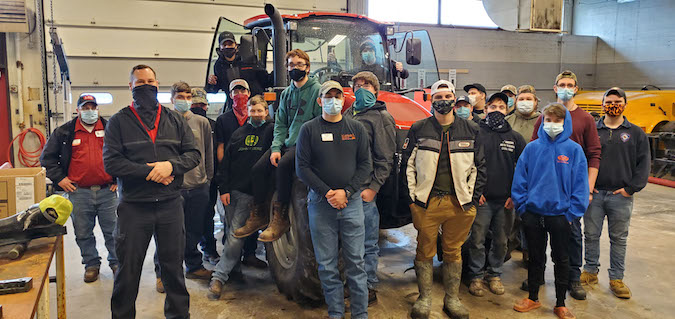 Press Release and photos from Orleans/Niagara BOCES
MEDINA – The teachers at Orleans/Niagara BOCES Career and Technical Education Centers are grateful for the strong business and educational partnerships that help them prepare their students for the workplace or to continue their education after high school.
Mike Schultz, who teaches Diesel Technology at the Orleans Career and Technical Education Center, says he was very thankful for a recent visit and educational opportunities that Monroe Tractor and SUNY Cobleskill provided to his students.
"Tom Lewis, Branch Manager of Monroe Tractor in Batavia and Edgar Wallace and Tim Gregoite, both Outreach Trainers for SUNY Cobleskill, brought in a brand new Case tractor and provided my students with some hands-on hydraulic training. They were even kind enough to leave the tractor with us to continue with some more training on their product. It has been incredibly beneficial to my classes."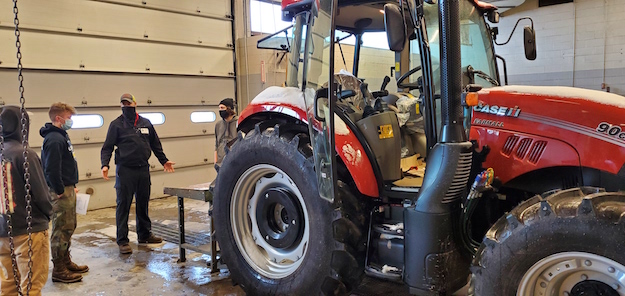 Schultz says that Monroe Tractor Service Director, Jerry Siconolfi, followed up their visit with one of his own and talked job opportunities with the students.
"Monroe Tractor has 13 locations in New York State and New England and provides equipment, parts and service in the agriculture and construction fields," Schultz said. "We have always had a good partnership with Monroe and they have always allowed my students to shadow and internship there. I cannot tell you how important those work-based learning opportunities are. It allows the students to learn real world skills in a real world setting. The job exploration component and soft skills they learn are incredibly valuable for this class."
SUNY Cobleskill is working with Monroe Tractor through a Diesel Technology and Power Machinery Workforce Development grant from the US Department of Labor to develop skilled members of the workforce and enhance opportunities for students. By visiting programs such as Orleans/Niagara BOCES, they can support initiatives to fortify the equipment distributor technician employment pipeline by establishing partnerships linking employers with technical educators and students. The hope is that it will increase job visibility, create new opportunities for dealers to sponsor students and lead to an overall improvement in the quality and quantity of students to pursue equipment distributor technician positions.
"It was a great opportunity for my students to be able to get this training and talk to the representatives about the job field," Schultz said. "Visits like this enrich our curriculum and instruction. We are grateful to be able to work hand-in-hand with area business and educational leaders to prepare our students for their future."