Determined crowd braves drenching to express opposition to turbines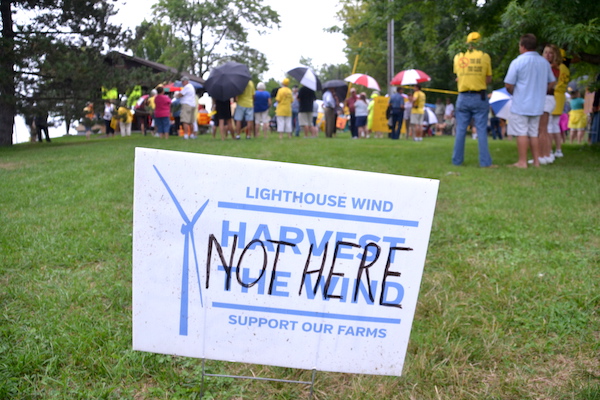 BARKER – Residents didn't let a downpour keep them from gathering by Lake Ontario this evening to sound off against a proposal for about 70 industrial wind turbines in Yates and Somerset. Those turbines could be as high as 650 feet to the top of the blade.
About 200 people gathered at the boat launch at Golden Hill State Park this evening to voice their opposition to a proposed turbine project by Apex Clean Energy.
The rain became more intense soon after the event started at 6 p.m.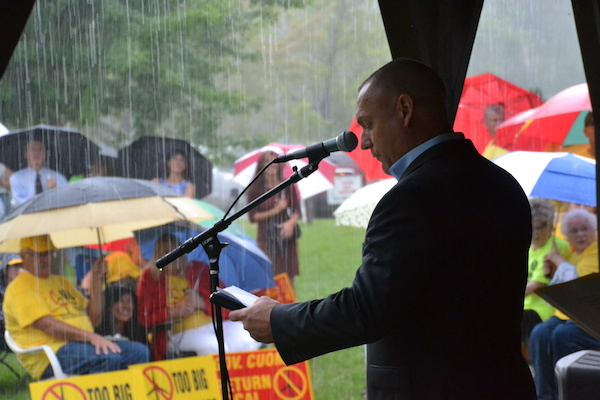 Dan Engert, the Somerset town supervisor, told the crowd that the turbines are far out of scale for a rural community by Lake Ontario. He said the public opposition has grown, and Apex should look elsewhere for its project.
The gathering this evening was by the historic lighthouse at Golden Hill State Park. Engirt said that lighthouse and park are treasures that should be spared from being so close to large turbines.
He faulted the state and Gov. Andrew Cuomo for passing Article 10 legislation that gives a state siting board the say on which energy projects are approved. Engirt said that change has taken power from lower communities to determine land use and zoning. He said he is trying to rally town officials from across the state to oppose the Article 10 process.
"We are trying to build a coalition among the towns," Engert said, to fight "an unprecedented power grab" by the governor.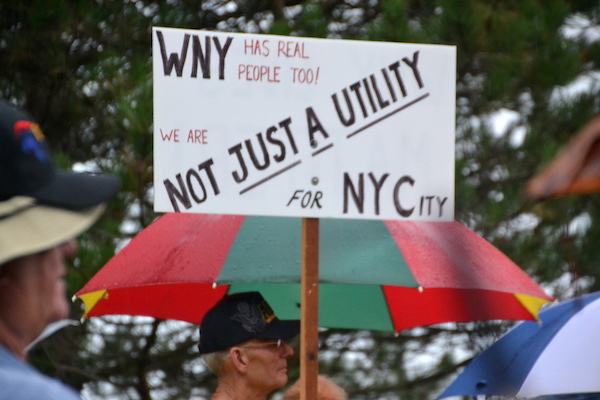 A resident holds a sign against siting the turbine project in Western New York. Several speakers said the state is pushing wind energy upstate to feed electricity needs in New York City.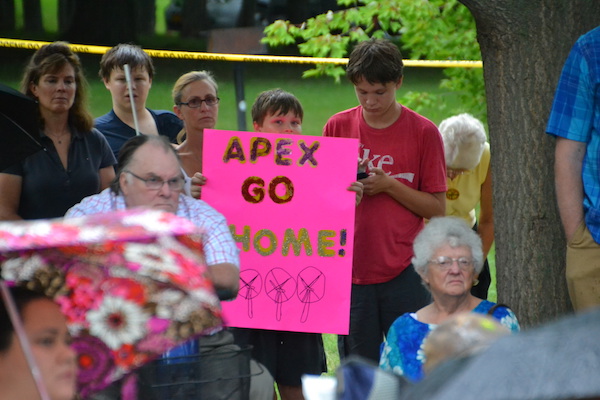 People of all ages gathered near the boat launch, urging Apex to "go home!"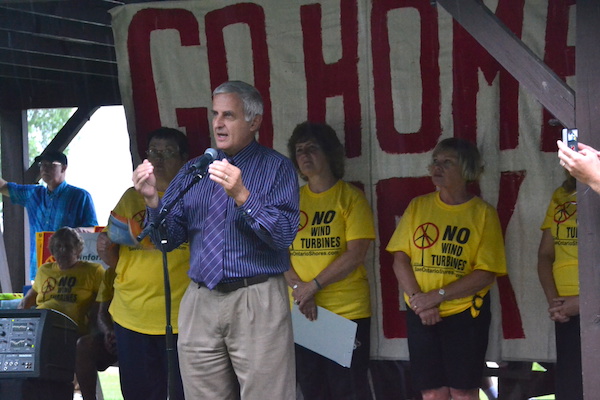 Jim Simon, the Yates town supervisor, said the community is still waiting to hear where Apex plans to put the turbines. Simon was elected last November in a write-in campaign. Simon ran with Save Ontario Shores' backing and defeated the incumbent town supervisor. It's unusual for a write-in candidate to win, and his election showed how strong the community feels against the turbine project, said Kate Kremer, SOS vice president.
Simon said he was impressed by the big crowd Thursday.
"I am in this fight for you," Simon told the soaked gathering. "I will remember this day and everyone of you who stood in the rain. God bless you."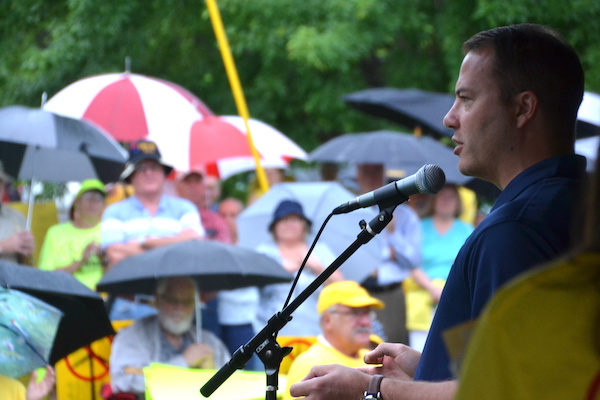 State Sen. Robert Ortt said the turbine project, Lighthouse Wind, would bring few if any jobs to the community while destroying the lakefront.
"They are preying on peoples' desperation – people who want fast money," Ortt said.
He reiterated his concerns that the tall turbines would be a detriment to the military base, and could give the federal government a reason to close it in the future.
"It would be unconscionable to put the base in jeopardy," Ortt said.
He also opposed the changes in Article 10 that shift power from the local communities to the state. Ortt also praised the group for coming out in the rain.
"This kind of turnout in this kind of weather should send a crystal clear message," he said.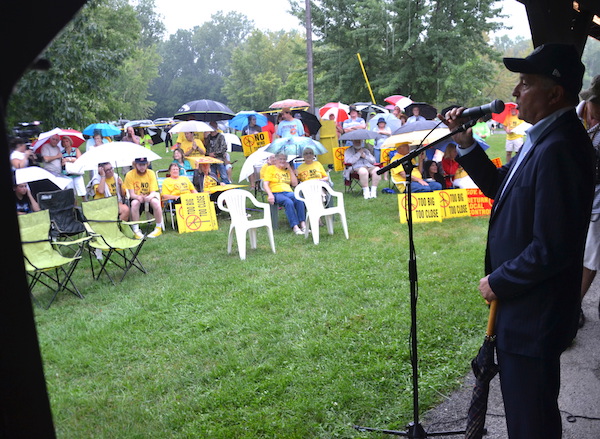 Dennis Vacco, the former state attorney general, has been hired by the Town of Somerset to fight the turbine plan. Vacco is a partner in the Buffalo law firm of Lippes Mathias Wexler Friedman.
He said residents with their sustained opposition are making their voices heard in Albany. He said he fears the state will be pushing for more big turbine projects as a result of a new goal to have 50 percent of the electricity in state to come from renewable sources by 2030. Sacco said it would take 1,400 turbine and solar projects in upstate New York for NY to reach that goal.
"They're not going on the top of the Empire State Building," he said.
The fight will continue against Article 10, Vacco said, so local communities can dictate their future.
"It's about home rule," he said. "You deserve the right to decide how your community is governed and how your land is used."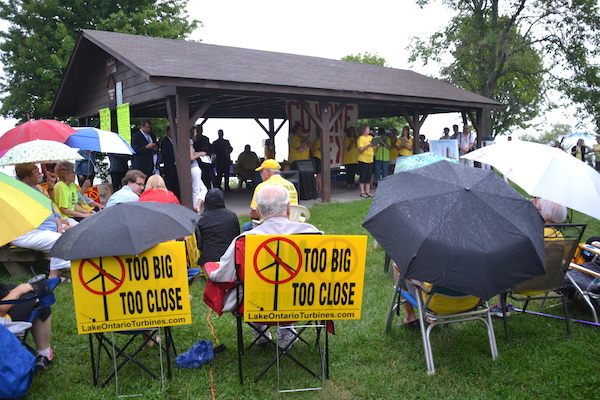 Pam Atwater, SOS president, addresses the crowd and encourages them to keep speaking out through signs and letters.
(Editor's note: SOS announced at the meeting that 500 attended the rally but it looked more like around 200. After speaking with other people at the event, they agreed 200 was an accurate count for the crowd size.)
Atwater is standing in front of a large sign that says, "Go Home Apex."
Niagara County Legislator John Syracuse also noted that Niagara, Erie and Orleans county legislatures have opposed the project. He said the project is driven by Apex's "crony capitalism and greed."
He urged the Virginia-based company to seek other communities where Apex would be welcome.
"Please scrap your plans in Niagara and Orleans counties and go home," Syracuse said.