Dessert Café chef has advice for Orleans students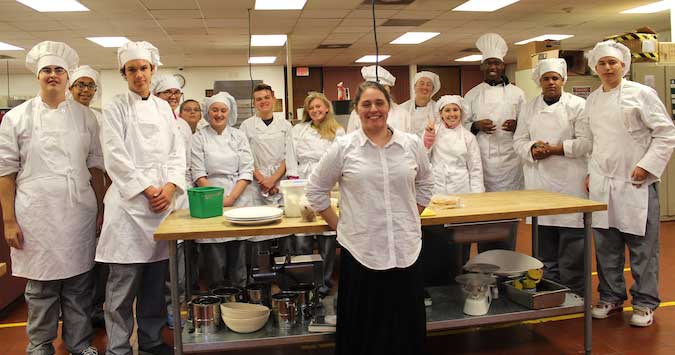 Press Release, Orleans-Niagara BOCES
MEDINA – Dessert Café chef Autumn Kuhn recently stopped into James Atzrott's Culinary Arts class at the Orleans Career and Technical Education Center to talk sweets and careers with his students.
She stressed to the class how important it is in this field to have a good work ethic and then showed off some amazing desserts that she makes at the restaurant.
It was a yummy and informative lesson for the students!
Photo Caption: Chef Autumn Kuhn is pictured with Ben Lennox (Albion), Corbin Manning (Albion), Zachary Richbart (Barker), Jalena Speer (Lockport), Naomi Mathes (Albion), Marie Reynolds (Albion), Jacob McKernan (Roy Hart), Alyssa Ziehm (Newfane), David Baier (Roy Hart), John De Puy (Albion), Alyssa House (Lockport), Jordan Jackson, Corey Joseph, and Julien Foster (all Lockport).