Puppies, allegedly stolen, reunited with owner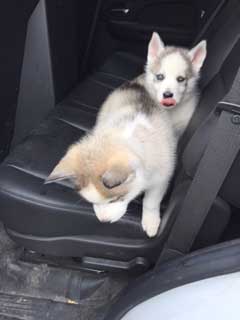 Press Release, Orleans County Undersheriff Chris Bourke
GAINES – The Orleans County Sheriff's Office located two stolen puppies on Saturday and reunited them with their owner.
Beatrice Figueroa reported to deputies that on Friday someone entered her unlocked garage on Eagle Harbor Road in the Town of Gaines and took her two Siberian husky puppies.
Deputies on Saturday received information from an anonymous source that the stolen puppies were at an address in the Town of Clarendon. After further investigation, Deputy T. Tooley was able to locate and recover the two stolen puppies on McNamara Road.
The two puppies were reunited with Ms. Figueroa at the Sheriff's Office and appeared to be in good health.
Deputy T. Tooley charged Eric F. Hering, 23, of Eagle Harbor-Knowlesville Road, Albion with criminal possession of stolen property in the 5th degree. Hering was issued an appearance ticket for the Town of Gaines Court on March 1 at 3 p.m.
The arrest was made by Deputy R. Flaherty, who was assisted by Deputy T. Tooley.