Deputies deliver boxes of toys to social services
DSS organizing Christmas effort for 148 kids in the county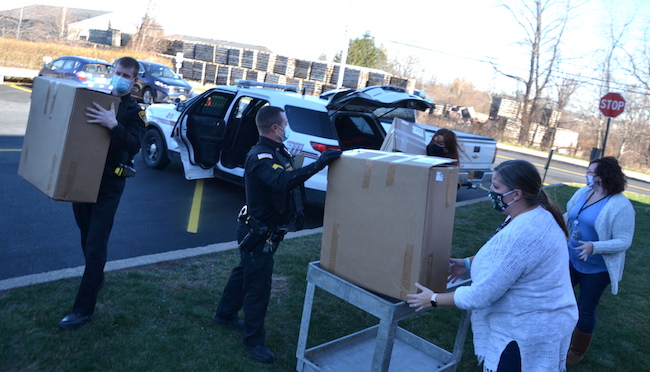 Photos by Tom Rivers
ALBION – Genesee County Deputy Robert Henning, left, and Orleans County Deputy Dave Foeller delivered boxes of toys on Tuesday to staff at the Orleans County Department of Social Services, with DSS staff Christina Tilbe, second from left, and Heather Manella helping to move the toys inside.
Stan's Harley-Davidson in Batavia and Van's Pit Stop in Clarendon collected toys to be given to families served by DSS. Stan's collected seven boxes and Van's, in its first year as a collection site, had one box for the effort.
The toys will be shared by DSS in Genesee and Orleans counties.
The local deputies also donated proceeds from "No-Shave November" to the DSS to purchase gifts for the kids.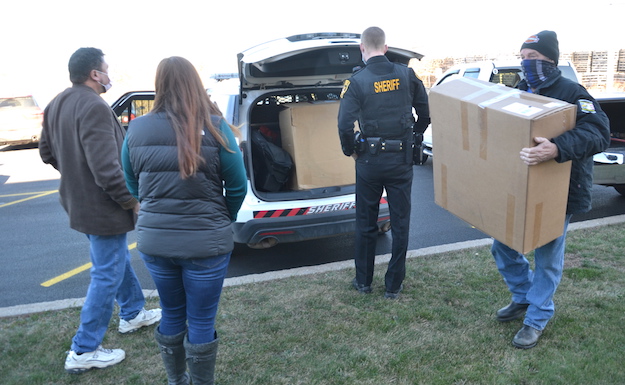 Jesse Underwood, right, from Stan's Harley-Davidson carries one of the boxes of toys. He said Stan's customers gave more toys and bigger gifts this year for the drive.
"People were even more generous this year," he said.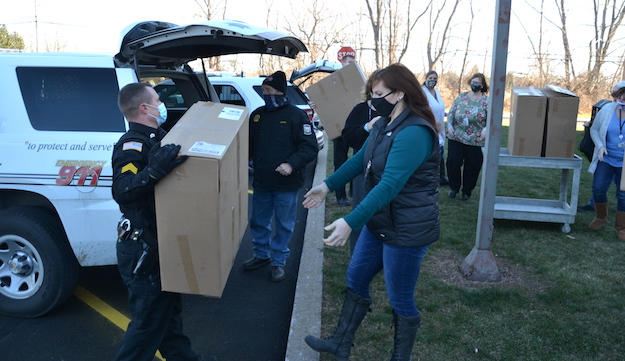 Orleans County Deputy Dave Foeller hands a box to Lisa Thrash, a caseworker with the Orleans County DSS. The deputies offered to transport the boxes for the annual drive.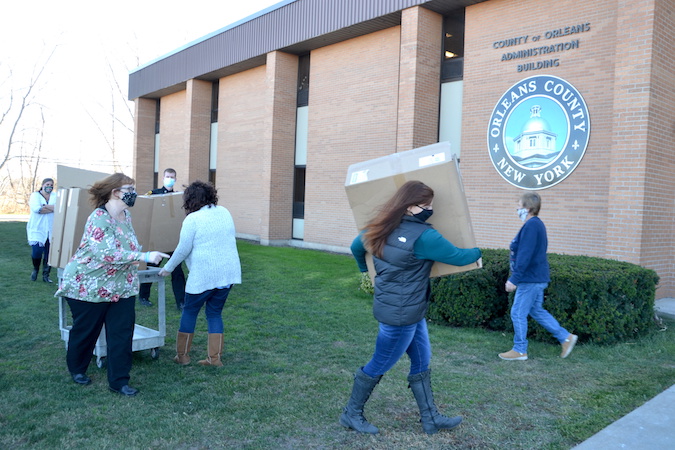 Lisa Thrash carries a box inside the County Administration where the toys will be sorted. Jeanine Larkin, the DSS supervisor of foster care and preventive services, follows behind with boxes on a cart.
Larkin said the DSS staff is organizing an effort to provide presents to 148 children that they work with. They are trying to have at least two presents for each of the children.
Larkin said there used to be a holiday party for families and children at DSS, but that won't happen this year due to Covid-19 restrictions.
The DSS staff will instead be delivering the gifts. She said many county employees have purchased toys and presents for the children, and the staff at the county courthouse purchased 25 winter jackets for children.
Other community members, churches and organizations provide toys for the agency to give to the children.
"There is so much love and joy coming in," Larkin said.