Demolition day arrives for Elba's old water tank
Standpipe from 1934 taken down after water system connected to new water tower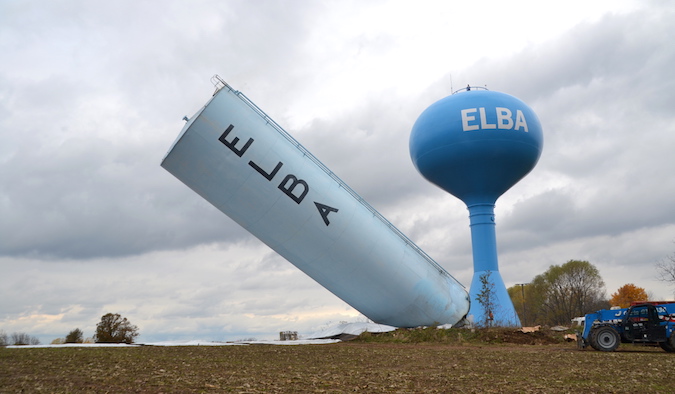 Photos by Tom Rivers
ELBA – The water tank that has been a part of the Elba landscape since 1934 came down just after 1 p.m. today. The standpipe held about 300,000 gallons of water.
It has been replaced by a new 750,000-gallon water tank that serves the village and also a growing water system throughout the town. (Elba has sent construction of phase 7 of its town-wide water district out to bid.)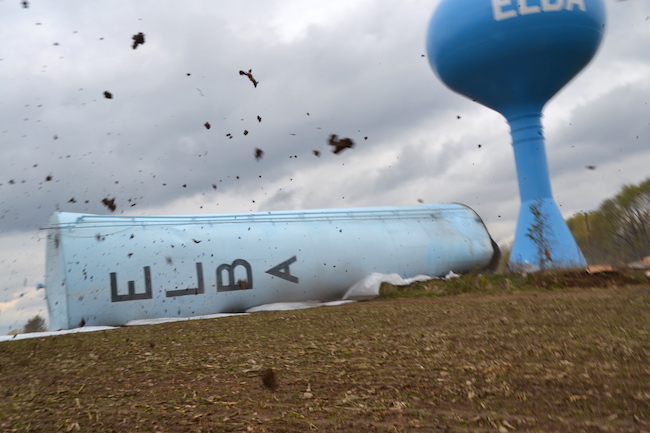 The water tank landed with a loud thud and unleashed a lot of mud, including several chunks that hit the Orleans Hub editor.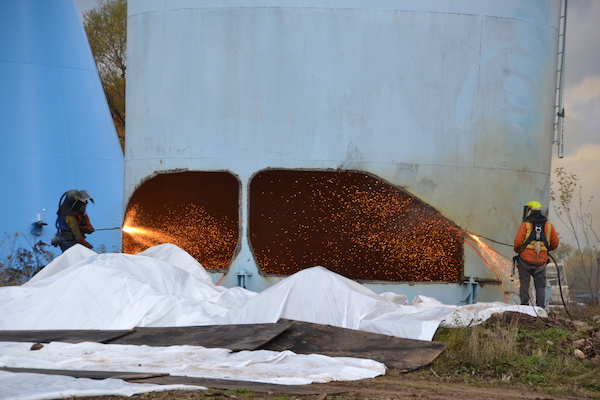 Iseler Demolition of Port Hope, Mich. brought of team of welders to take apart the tank. Iseler cut out sections on the bottom of one side of the tank, the same method used to cut down a tree.
Once an opening was cut out at the bottom of the tank, Iseler cut loose the last bolt used to help hold down the tank. The standpipe seemed to groan and then toppled over.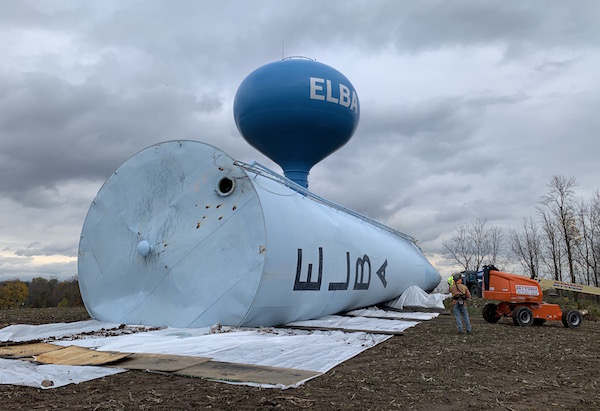 Iseler employees then went to work cutting the tank into pieces. Most of it will be recycled. Some small pieces will be given to people village and town officials and people who worked on the project.
Elba Town Supervisor Donna Hynes was given the plaque on the tank on Monday, which noted when it was constructed. She has the plaque at the Town Hall right now.
Elba Mayor Norm Itjen said the water tower has been up his entire life and the entire lives of most local residents. The structure, which was about 80 feet high, could be seen several miles away down Route 98 from Batavia.
Itjen said he is pleased the community has upgraded its water system, with new waterlines, a new water tank, and a different water provider. Elba was using a well off Barrville Road. Elba switched to the Genesee County water system about two years ago with the water coming from the City of Batavia.
Itjen said the community has been water quality and the new water lines and water tower have boosted water pressure by about 10 to 15 pounds for most water customers.
Before the upgrades, the village Department of Public Works was frequently called into duty to fix leaking water lines.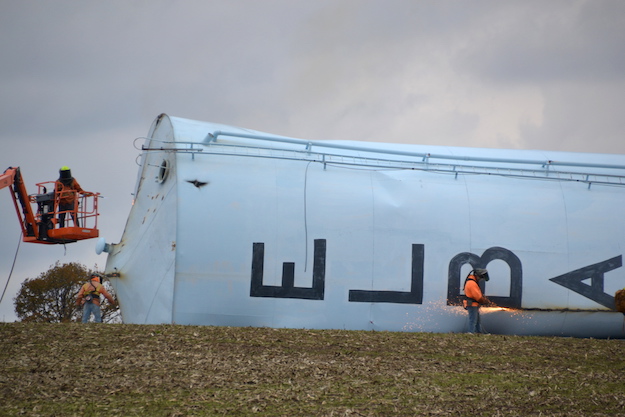 The welders go to work taking the water tank apart.
Iseler expects to have the tank gone on Wednesday.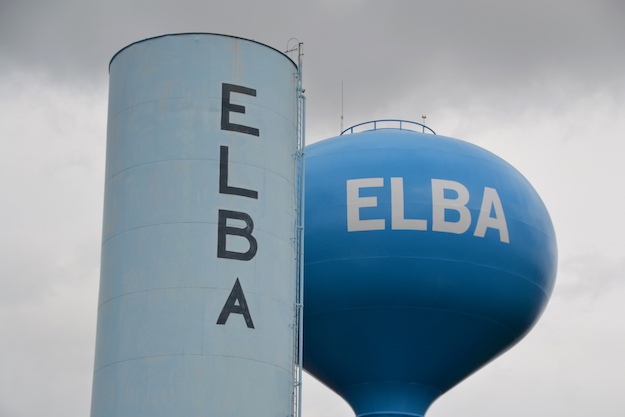 Here is how the two water tanks looked at about noon, about an hour before the standpipe was taken down.