Democrats donate many winter coats to Hands 4 Hope ministry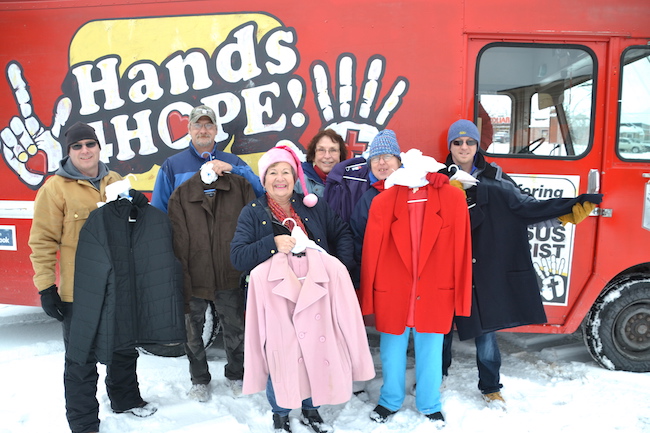 Photo by Tom Rivers
ALBION – The Hands 4 Hope ministry is mow stocked with many winter coats for Orleans County residents after the Orleans County Democratic Committee provided the ministry with about 75 coats.
Jeanne Crane (center), Democratic Party chairwoman, and Aggie Recco (behind her to right) from the Democrats made coat deliveries last Saturday in Holley and then yesterday when Hands 4 Hope was in Albion (on Liberty Street).
The Hands 4 Hope volunteers in picture include, from left: Kevin Lemcke, Eric Tapp, Kellie Mata (holding red coat) and Kevin Madden.
Hands 4 Hope started on Jan. 30 and most Saturdays has been providing shares of food, about $20 worth. Hands 4 Hope has given about 1,500 shares so far this year. Members of the ministry, led by Jack Burris of Albion, also take prayer requests.
The ministry is out nearly every Saturday. Burris said Hands 4 Hope is interested in expanding and adding another day if financing and donations come through.