Demo of Lyndonville building will take about a week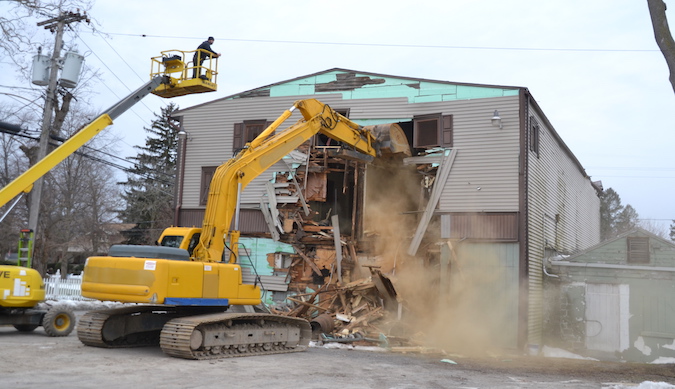 Photos by Tom Rivers
LYNDONVILLE – Art Hill Excavating begins taking down the Lyndonville Pennysaver Market building this morning.
Art Hill is operating the excavator. His son-in-law, Aaron Young of AGC Construction in Holley, is in the lift as a guide and to keep an eye on the demolition. (Click here to see a video of some of the demolition.)
Hill started in the back of the building and plans to slowly work through the site, a dominant structure at the corner of Main and Eagle streets in the village.
The Village Board declared the site an unsafe structure after the roof collapsed on Feb. 22.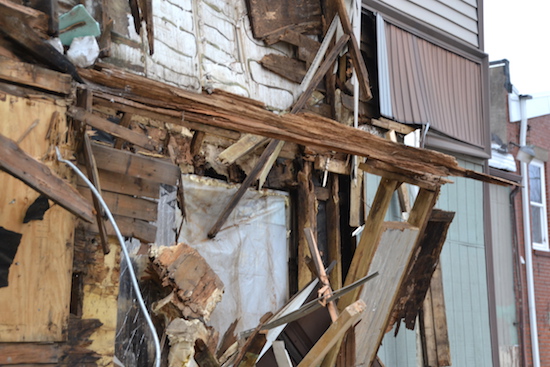 The support beams in the back of the building were badly decayed, Hill said.
"They were like powder," he said.
Hill's daughter Jennifer Hill-Young is the owner of Art Hill Excavating and her father is the vice president. They said the demolition of the building is planned to take five days. The building should be knocked down by later this afternoon. Hill will then work to remove the materials the rest of the week.
Hill-Young said it is a delicate demolition because of the presence of Main Street in the front of the building, power lines on two sides and a neighboring, adjoining structure.
Before the demolition started, her husband, Aaron Young, went inside the building on the second floor and put in straps to pull the walls in as the excavator worked through the structure.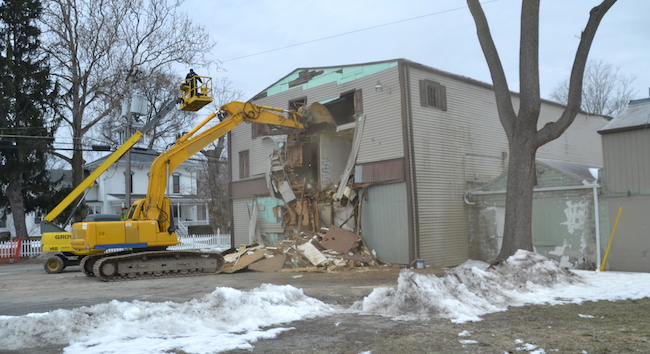 Robert Smith, a Lyndonville native who now lives in California, owns the building and three others on Main Street. He had grand plans for the Pennysaver site with hotel rooms and retail space. He has been working to transform the block of four structures.
The Pennysaver Market closed in April 2013 after 35 years in business by Sharon Gray. She offered grocery items, hardware, videos, a deli, finger foods and pizza. The market was the first job for many teen-agers in the Lyndonville community.