Debbie Padoleski given key to Medina after 41-year career in clerk's office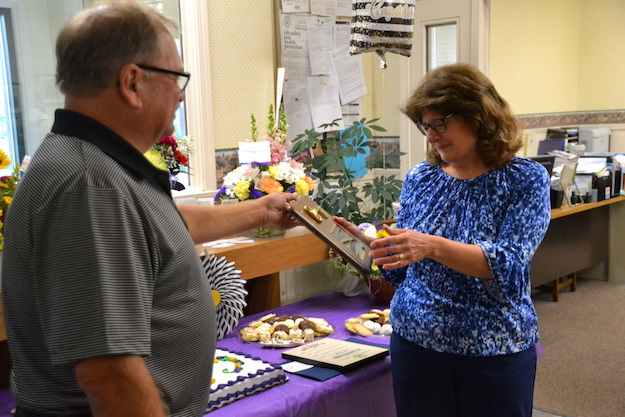 Photos by Tom Rivers
MEDINA – Medina Mayor Mike Sidari presents a key to the Village of Medina to Debbie Padoleski in appreciation for her 41 years of work in the village clerk's office, including the past eight years as village clerk/treasurer.
Padoleski retires on June 30. She has worked for Medina since she was 19.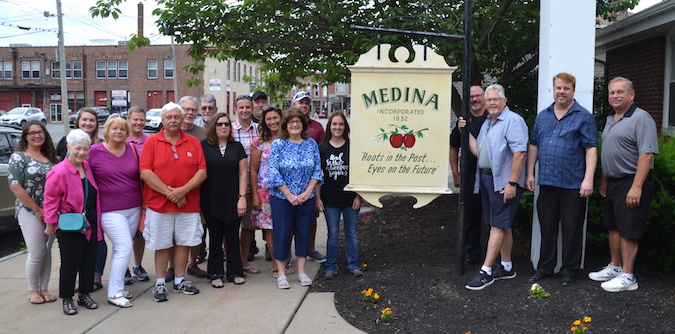 Many current and former village employees and trustees attended a retirement party for Padoleski this afternoon. She joins them for a group photo outside the village clerk's office at 119 Park Ave.
"I've met a lot of wonderful people," Padoleski told the group. "This has not been a job to me. I hate to leave it but I know it's time."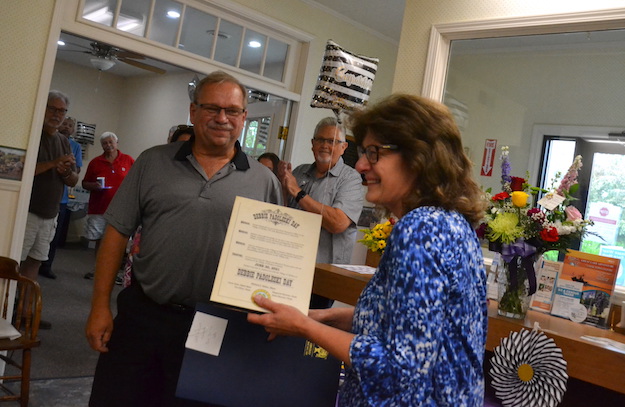 Mayor Mike Sidari presents Padoleski with a proclamation declaring June 30, 2021 as "Debbie Padoleski Day" in Medina. That will be her last day at work.
Sidari has been the Medina mayor for five years. He praised her for provided guidance in his role as mayor.
Padoleski functions as the village's chief financial officer. "She takes care of all the financials," he said.
She also is a calming presence in the office, and will patiently explain tax bills and local laws to local residents.
The proclamation for Padoleski states:
"Debbie's thorough knowledge of the day-to-day operations of the Village, including records and fiscal management, has made the Village of Medina a better place to live, work and visit. "With her dedication to the Village of Medina, Debbie has provided the Village with equitable and efficient operations that will have a long-lasting, positive influence on the Village," states the proclamation, which is signed by Mayor Sidari and Village Trustees Owen Toale, Tim Elliott, Marguerite Sherman and Jessica Marciano.