David Bellavia, Lyndonville grad, speaks to Top 10 in Class of 2018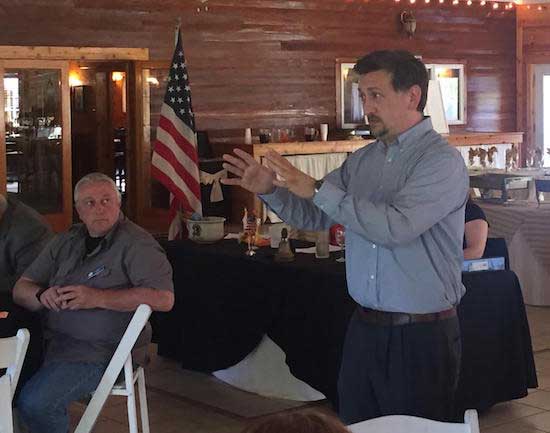 Provided photos
LYNDONVILLE – David Bellavia, of graduate of the Class of 1994 in Lyndonville, addressed Lyndonville's Top 10 students during a Lyndonville Lion's Club meeting on Wednesday. Bellavia is a distinguished veteran, author, and radio show host.
John Riggi, a member of the Lions Club, is at left. The event was at the White Birch Golf Course.
Bellavia, an Iraq War veteran, wrote a book that detailed his experiences as a staff sergeant in the second battle of Fallujah. He wrote House to House with John R. Bruning, describing the efforts of front line forces in urban combat against insurgents. Bellavia was part of a campaign that took the heavily fortified city. He was recognized with a Silver Star.
In 2005, Bellavia was inducted into the New York Veterans' Hall of Fame.
He has been active in politics, twice running for Congress.
Bellavia now works as a radio talk show host and as an advocate for veterans in the Iraq and Afghanistan wars.
He grew up in Lyndonville as son of local dentist Bill Bellavia. He performed in the high school musicals, including a lead role of Jack in Lyndonville's production of Into The Woods.