Diary recorded daily weather, other events in Medina in 1883
Many more hot days in 2020 compared to 1883
Illuminating Orleans, V1, No. 4      
By Catherine Cooper, Orleans County Historian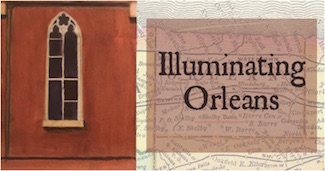 At the beginning of a new year, it is not unusual for people to resolve to keep diaries or lists. Our subject this week is an example of such, from the collection at the Medina Historical Society Museum. It is a sturdy tan note-book, with a plain cover. The first page contains the following inscription which describes its purpose:
"A Weather Record kept at Medina, Orleans County, NY, from Jan. 1st 1883 to  "
The columns of the pages of this ledger type note-book were labeled to indicate the Year, Date Temperature, Time, Wind and Weather. The temperature for each day was neatly recorded at three times every day: Sunrise, 1 p.m. and Sunset.
The prevailing wind direction was noted, as well as the general weather condition, whether Cloudy, Clear, Rain, Snow, Sleet, or Fog. There are occasional notations in tiny handwriting: "a very windy day and night" or "3 or 4 inches of snow in night"
The destructive windstorm of 1885 is noted: "1885, Jan. 26, A terrible windy night, 50 chimneys reported blown down in the village"
There are notations about fires:
"1883, Feb. 10, about 5 am, fire broke out in the pail factory of Johnson & Wigley on East Center St., the fire went into the adjoining building known as the Union Mills, owned and occupied by S. C. Hoag, both buildings nearly all burnt up, with contents."
"1883, Nov. 1, Fire alarm at 9:45 pm, fire discovered in Mrs. Alford's barn, in the alley between Park Ave. and Center St., burnt down, with J.C. Davis barn adjoining & Pat Horan & A.M. Barry barns on the north side. The next adjoining shed was Newell's, which to stop the fire he ordered pulled down & the fire was stopped, thus preventing a spread of the fire, as a strong SW wind was blowing, a terrible fire would have been the result"
These descriptions highlight the destruction that could ensue from a single fire, at a time when many buildings and most barns were of wooden construction.
And how do the summer temperatures compare with ours?
In 2020, we had one 93-degree day in May, one 90-degree day in June, and in July eight consecutive days of 90 degrees or higher, as well as the hottest day in 63 years at 98 degrees.
In the summer of 1883, there was one 90-degree day, 15 days with a temperature between 80 and 84, and 3 days with a temperature between 85 and 89.
In the summer of 1885, there was no 90-degree or higher day, 21 days with a temperature between 80 and 84 and 2 days with a temperature between 85 and 89.
We are so accustomed to having detailed weather information right at hand, on our phones. Local newspapers in the 1880's were weekly and did not include weather forecasts. But, by 1882, Pool's Signal Service Barometer, "the Best in the World" was advertised regularly. It could be ordered "on receipt of $1, or 6 for $4" from J.A. Pool's Oswego Thermometer Works, Oswego, NY.
The weather records in this notebook run from Jan. 1883 to August 21, 1886, the last full entry on the next to last page. We can deduce that this record keeper was methodical and precise. But what of the person's identity?
The answer is provided at the end of the very last page of this notebook. The notation reads:
"Levan W. Merritt died at 1:15 a.m., August 23, 1886. Funeral services at 3 p.m. Aug. 26th, 1886. Burial about 4:30 p.m. under a perfectly cloudless sky."
Born in Connecticut in 1806, Mr. Merritt came to Medina in 1833. He operated a flouring mill. In 1841, when he built his sturdy red brick home at 406 West Ave., the location was considered to be "out in the country". He helped design the layout of Boxwood Cemetery, was a founding member of the first fire company and is credited with planting the first shade trees on the Village streets. He would, no doubt, have appreciated that "perfectly cloudless sky".