Cyclists promote power of people with disabilities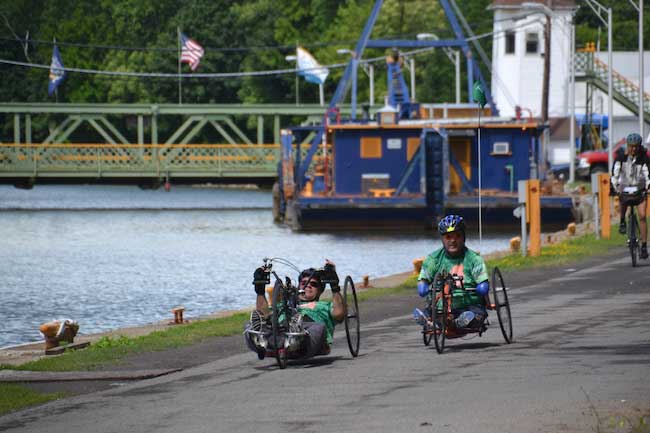 Photos by Tom Rivers
ALBION – John Robinson, right, and Doug Hamlin arrive in Albion at about 11 a.m. today on second day of their planned 12-day trip over more than 350 miles along the Erie Canal.
The two men use adaptive use bicycles to make the journey. Robinson and Hamlin are partners in Glenmont-based Our Ability, a network of consulting, public speaking, recruitment and professional services that champions the inclusivity of people with disabilities in the workplace.
"We want companies to find out more about the power of people with disabilities," Robinson said today while addressing a group of supporters at the Arc of Genesee Orleans.
They are making their fifth ride along the canal. Robinson said several businesses and companies have stepped up efforts to hire people with disabilities since the first bike trip on the canal in 2013.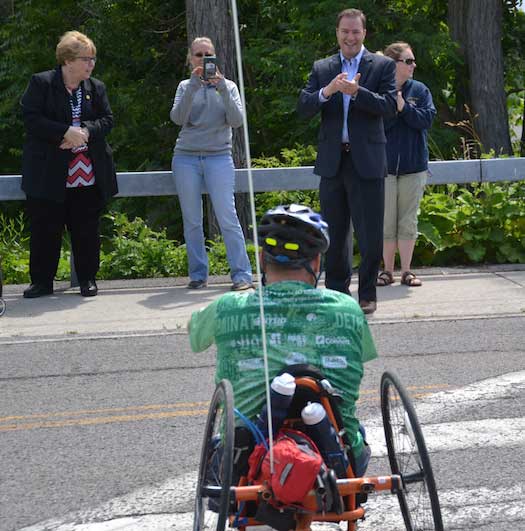 Robinson was welcomed by several local officials and leaders in Albion, including, from left: Donna Saskowski, executive director of Arc of Genesee Orleans; Lisa Stratton, president of the Albion Merchants Association; State Sen. Rob Ortt; and Jayleen Carney, a staff member for Assemblyman Steve Hawley.
Robinson and Hamlin had a contingent of about 15 people making the trip with them today. They started in Medina and are finishing in Spencerport later this afternoon as they work their way east to Albany.
Robinson is a congenital amputee without full arms and legs. He overcame countless obstacles to become a successful businessman, husband, father and inspirational speaker.
Robinson was inspired to undertake the first Journey Along the Erie Canal in 2013 by his wife and two children after receiving a three-wheeled, hand-operated cycle as a donation. His family helped him learn how to ride and then train for the statewide journey. Today he was joined on the trip by his wife Andrea, and their son Owen, 13. They have an older daughter who had a commitment at college for this trip along the canal.
Hamlin uses a specialized hand cycle for the ride.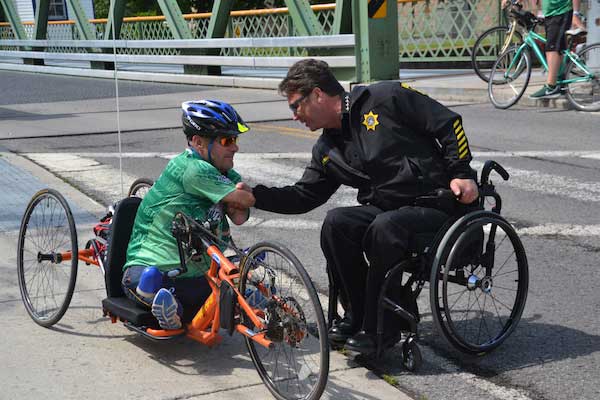 Orleans County Sheriff Randy Bower greets Robinson near the Ingersoll Street lift bridge in Albion. Bower is paralyzed from the waist down after an auto accident when he was 18.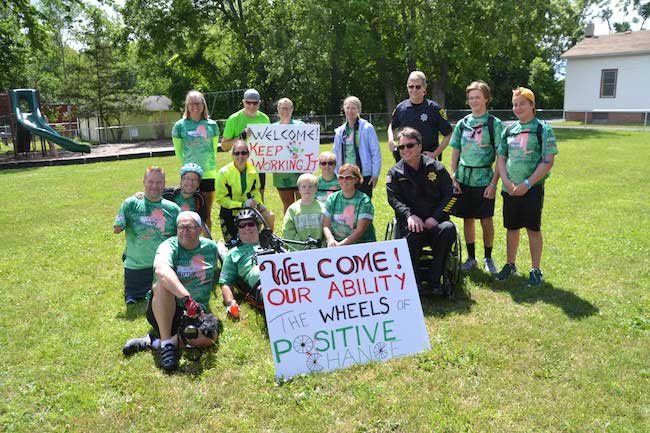 Arc of Genesee Orleans staff greeted Robinson and Hamlin with these signs. The group stopped for a reception at Carosol Park in Albion, north of the canal at the corner of Ingersoll and Caroline streets.
Saskowski, Arc director, praised Robinson and Hamlin for their message and mission.
"We know what you stand for, promoting employment for people with disabilities," Saskowski said at the reception. "We want more options than sheltered employment. This is truly a new time, a new era."
This year's ride highlights the growth of the 30 business-member New York Business Leadership Network. The NYBLN is a coalition among businesses in New York State interested in both hiring and building supplier diversity of businesses owned by individuals with disabilities.
The NYBLN was formed by Our Ability in December of 2015 in response to Governor Andrew Cuomo's 2014 executive order establishing the Employment First Commission to create employment opportunities for people with disabilities in New York.