Covid cases see slight increase in Orleans after weeks of decline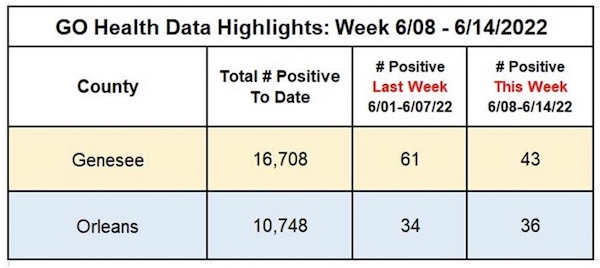 The number of confirmed Covid cases in Orleans was up slightly from 36 during June 8 to 14 compared to 34 the previous seven days.
In Genesee County that cases dropped from 61 to 43, according to the Genesee and Orleans County Health Departments.
The cases have been trending down in recent weeks.
In Orleans, the cases dropped from 120 (May 18-24) to 71 (May 25-31) to 34 (June 1-7) and then were slightly up to 36 (June 8-14).
In Genesee the cases are down from 170 (May 18-24) to 85 (May 25-31) to 61 (June 1-7) to 43 (June 8-14).
Both counties are now considered at the medium level for community spread by the CDC.
Statewide the percentage of positive tests over 7 days was at 5.48 percent on Friday. The Finger Lakes, which includes Orleans and eight other counties, was below the statewide average with a 4.88 percent positivity rate.