Covid cases see an uptick locally in past week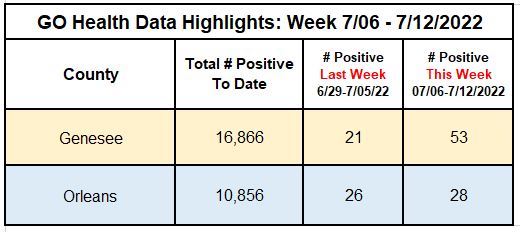 The Genesee and Orleans County Health Departments reported an increase in confirmed Covid cases in the past week.
In Orleans, the cases totaled 28 from July 6-12, up from 26 the previous seven days. Genesee more than doubled, going from 21 to 58.
Genesee County reported a Covid-related death in the past week and now has had 193 residents pass away from Covid since the pandemic started in march 2020. Orleans remains at 119 Covid-related deaths.
Statewide the 7-day positivity rate for Covid tests is at 9.21 percent, ending on Tuesday. Orleans County is in the nine-county Finger Lakes Region which has a positivity rate of 6.51 percent. That is almost the lowest rate in the state. Only the Southern Tier at 6.36 percent is lower. Long Island is the highest at 10.53 percent.
"We continue to respond to new variants as part of our ongoing efforts to protect New Yorkers against Covid-19," Governor Kathy Hochul said in a statement today. "New Yorkers should get vaccinated and get the boosters doses for which they're eligible. Parents and guardians should talk to pediatricians about getting our youngest New Yorkers vaccinated, too, now that they are able. Get tested if you feel ill and if you do test positive, talk to your doctor about possible treatments."