Covid cases see an increase in Genesee, Orleans
2 counties still ranked low at community level for Covid by CDC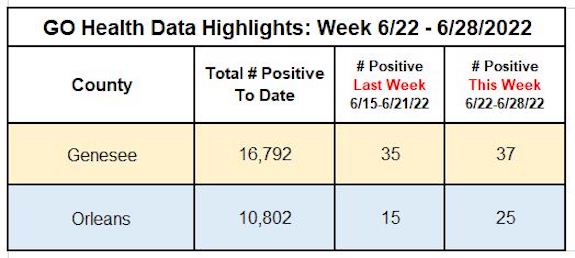 The local confirmed Covid cases is trending up after weeks of steady declines.
The Genesee and Orleans County Health Departments reported 25 Covid cases in Orleans from June 22-28, up from 15 the previous seven days. Genesee is up from 35 to 37 during that time frame.
Both counties continued to be ranked by the CDC as low for community levels. That is determined determined by hospital beds being used, hospital admissions, and the total number of new Covid-19 cases in an area.
The state's seven-day average for positive Covid tests is at 5.91 percent, ending on June 29. A week earlier, the seven-day positivity was 4.68 percent statewide.
Orleans County is included int he nine-you the Finger Lakes region which has a seven-day positivity of 6.23 percent. Long Island has the highest positivity at 8.17 percent and the Southern Tier has the lowest at 4.54 percent.
"As we continue to monitor the current numbers, I encourage all New Yorkers to keep using the tools we know that work to protect against Covid-19," said Gov. Kathy Hochul said. "Stay up to date on your vaccine and booster doses. Parents and guardians, now is a great time to consult with your child's pediatrician about getting them vaccinated. Test if you have symptoms, and if you're positive stay home and talk to you doctor about treatment."