Covid cases remain low in Genesee, Orleans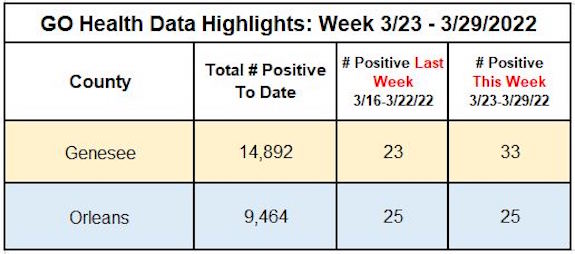 The number of new confirmed Covid cases in Genesee and Orleans counties remains at a low level.
In seven days from March 23 to March 29 there were 25 new cases in Orleans, the same number as the previous week. Genesee is up from 23 to 33. The 33 is down from the 38 from March 9-15.
The federal CDC continues to rank the two counties as low for Covid community spread.
Statewide the percent of Covid tests that were positive on Tuesday was 2.54 percent with 3,243 positive out of 127,873. The seven-day average for positive tests is 2.45 percent.
"While we keep a watchful eye on hospitalization and case trends, it is vitally important that every New Yorker continues using the tools we know are effective," Governor Hochul said on Wednesday. "If you're feeling sick, get tested and limit your exposure to others. If you test positive, talk to your doctor about available treatments. The vaccine and booster are still the most effective way to limit infection and severe illness, and I encourage all New Yorkers to take advantage of these tools so we can continue to keep ourselves and loved ones safe and healthy."