Covid cases hold steady in Genesee, Orleans but 3 more deaths in past week from virus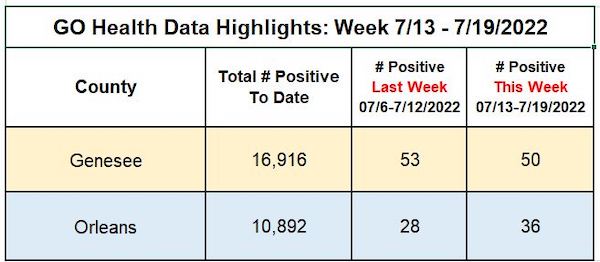 The number of confirmed Covid cases in Genesee and Orleans counties is holding steady, with 86 confirmed cases in the two counties from July 13 to July 19, compared to 81 the previous seven days.
In Orleans, the Covid cases increased from 28 to 36, while in Genesee they decreased from 53 to 50.
However, there have been three more confirmed Covid-related deaths. The two in Genesee bring the total to 195 since the start of the Covid pandemic in March 2020. The additional Covid death in Orleans puts the county at 120 Covid-related deaths during the pandemic, according to data from the Genesee and Orleans County Health Departments.
In New York State, the seven-day positivity rate, ending on Monday, was at 8.93 percent statewide. Orleans and Genesee counties are in the nine-county Finger Lakes Region, where the seven-day positivity rate is at 6.87 percent. The rate is the highest in Western New York at 10.39 percent and the lowest in the Southern Tier at 6.64 percent.