Covid cases hit one-day high in NYS, but active caseload drops slightly in Orleans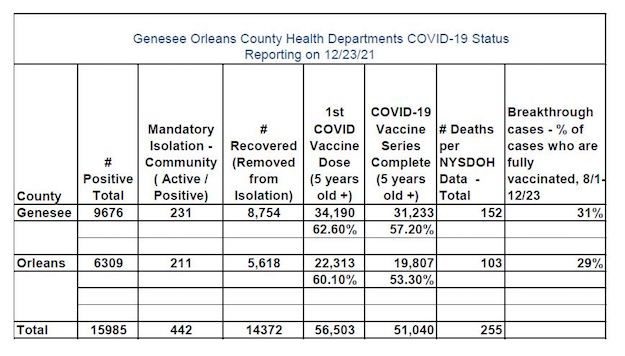 New York State set a new record high for Covid cases in one day with 38,835 on Wednesday. That obliterated the previous high, 28,924 on Tuesday. Just two days earlier on Sunday the record high was 23,391.
The surge is driven by New York City (22,808 cases on Wednesday) and Long Island (6,950 cases on Wednesday).
In New York City the percentage of Covid tests that were positive was 12.2 percent on Wednesday and Long Island was at 12.2 percent.
Orleans and Genesee were near the highest in the state two weeks ago but now are near the state average. The 7-day positivity rate in Orleans is 9.6 percent while Genesee is 9.8 percent. The state's 7-day percent positive is 9.5 percent.
Orleans and Genesee both have a decline in the number of active Covid cases since the last update from the local health department on Monday.
Genesee is down from 275 to 231 and Orleans declined from 216 to 211.
Orleans County is reporting 72 new positive cases (1 from a home test) since Monday, and 74 more recoveries or people who completed their 10-day isolation and have been removed from mandatory isolation.
Genesee is reporting 109 new positive cases (0 from home tests) since Monday, and 144 more recoveries.
Genesee has 29 residents hospitalized due to Covid and Orleans has nine in the hospital.
Orleans also has had three more residents die from Covid in the past week. Orleans has now had 103 residents die from Covid during the nearly two years of the pandemic.
Genesee is reporting one more death in the past week and has now had 152 residents die from Covid during the pandemic.