Covid cases double in past week in Genesee, Orleans
The number of confirmed Covid cases in Genesee and Orleans counties doubled in the past week, the local health department reported today.
Orleans had 54 new confirmed cases with 35 lab-based tests and 19 at-home tests. Genesee has 62 confirmed cases with 41 from labs and 21 at-home tests.
The 54 cases in Orleans from March 30 to April 5 compares to 25 in each of the previous two weeks.
In Genesee, the 62 cases from March 30 to April 5 compares to 33 the previous week and 23 the week before that.
The federal CDC continues to rank the two counties as low for Covid community spread.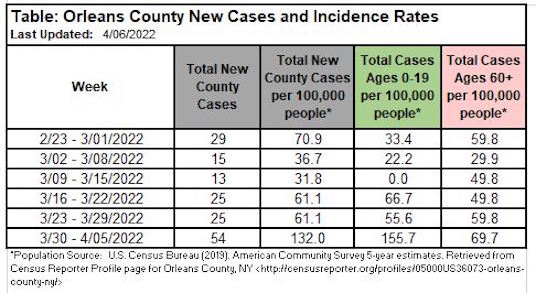 Statewide the percent of Covid tests that were positive on Tuesday was 3.67 percent, 4,358 out of 119,484 tested. That compares with 2.54 percent a week before when 3,243 were positive out of 127,873.
The seven-day average for positive tests was 3.22 percent on Tuesday, compared to 2.45 for the seven days ending last Tuesday.
"As we approach the spring holidays of Easter and Passover, it's important we all do what we can to protect our families and reduce the spread of Covid-19," Governor Kathy Hochul said today. "Make sure everyone in your family who's eligible is vaccinated and boosted. If you're attending family gatherings or traveling, take a test before and after. And if you test positive, talk to a doctor about the available treatments."