Covid cases decline in Orleans after 2 months of steady rise
The confirmed Covid cases in Orleans declined the past seven days after about two months of steady weekly increases.
There were 190 cases in Orleans from May 11 to May 17, which is down from 220 the previous seven days, 197 from April 27 to May 3, and 166 from April 20 to April 26.
The cases in Orleans in the past week include 140 from lab tests and 50 from take-home tests, the Genesee & Orleans County Health Departments reported this afternoon.
In Genesee the cases have declined from 286 from April 27 to May 3, to 283 from May 4 to May 10, and 261 the past week.
Both counties are reporting a Covid-related death in the past week, which brings the total Covid deaths to 188 in Genesee County and 117 in Orleans since March 2020.
The 7-day positivity rate state-wide was at 7.66 percent on Monday, and was the highest in Western New York at 18.20 percent. The nine-county Finger Lakes Region was second highest at 13.15 percent. New York City is the lowest at 5.18 percent.
The federal Food and Drug Administration on Monday authorized the first Covid-19 booster dose for 5 to 11 year olds.
"Following approval from the Centers for Disease Control and Prevention, New Yorkers will be able to safely provide this life-saving tool to their children," Governor Kathy Hochul said. "In the meantime, I am calling on our parents and guardians to do what they can to keep themselves and their loved ones safe. That includes getting boosted, if you haven't already. Let's continue to work together and take care of one another, New York."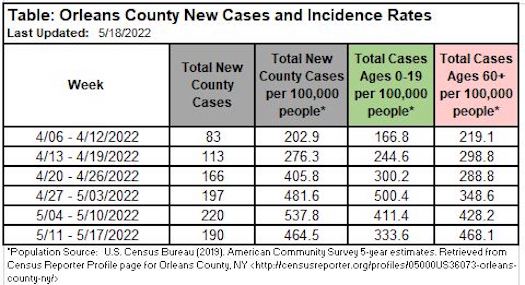 ---