Covid cases continue sharp decline from peak of Omicron surge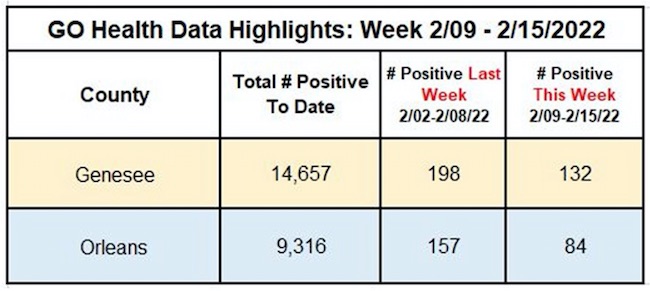 Orleans and Genesee counties continue to see Covid-19 cases fall from the peak of the Omicron surge.
The two counties reported 216 new cases over seven days, Feb. 9-15, which is down 92 percent from the 2,703 cases in the two counties from the peak of the Omicron surge from Jan. 5-11.
Each of the counties reported a death from Covid in the past week. Orleans has now had 110 residents pass away from Covid while Genesee has had 182 deaths from Covid during the nearly two years if the Covid, according to the Genesee and Orleans County Health Departments.
Statewide the daily new cases are at the lowest levels since Oct. 25, and hospitalizations are down 72 percent since Jan. 11, Gov. Kathy Hochul said on Tuesday..
"We have very promising numbers on Covid," Hochul said. "We are in a good place."
In Orleans County, the Covid cases the past 8 weeks include:
159 – Dec. 22-28
379 – Dec. 29-Jan. 4
855 – Jan. 5-11
645 – Jan. 12-18
521 – Jan. 19-25
255 – Jan. 26-Feb. 1
157 – Feb. 2-8
84 – Feb. 9-15
In Genesee County, the Covid cases the past 8 weeks include:
276 – Dec. 22-28
383 – Dec. 29-Jan. 4
1,848 – Jan. 5-11
1,014 – Jan. 12-18
847 – Jan. 19-25
361 – Jan. 26-Feb. 1
198 – Feb. 2-8
132 – Feb. 9-15