COVA supporters try to rally community to save local ambulance service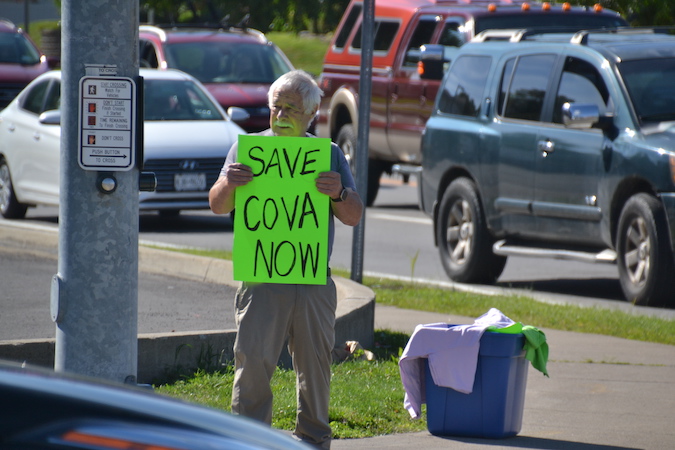 Photos by Tom Rivers
ALBION – Stan Farone, a founding member of COVA in 1979, holds a sign in support of the agency at about 4 p.m. at the intersection of routes 98 and 31.
He was one of about 20 people out with signs in support of COVA. They were also selling COVA T-shirts for $15.
COVA is facing a $150,000 budget deficit and may be forced to close by Jan. 1.
The agency has sought assistance from local governments through their federal American Rescue Plan Act money or through inclusion on the town tax bills in Albion, Barre, Gaines and Carlton. So far there isn't a plan to keep COVA operating after Jan. 1.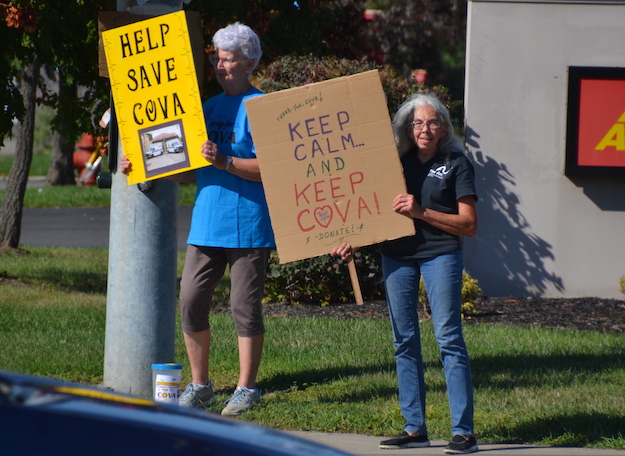 Leslee Lockwood, left, and Linda Kepler try to rally support and awareness for COVA.
Mike Fuller, an East Shelby firefighter, was among those at the intersection in support of COVA. Fuller, the retired Shelby highway superintendent, said he received EMS training through COVA. He now works for Mercy in Batavia and also as an EMT at Darien Lake.
He said COVA needs support from the local governments to keep providing service for the community. He noted in western Orleans, the towns of Shelby, Ridgeway and Yates also contribute to an ambulance fund for the Medina Fire Department.
The fiscal challenges on community-based ambulance providers is a nationwide problem, Fuller, with low Medicaid rates and insurance rates, and people who often keep the insurance checks and don't turn them into COVA.
"COVA is established in the community," Fuller said. "I don't want to see it go."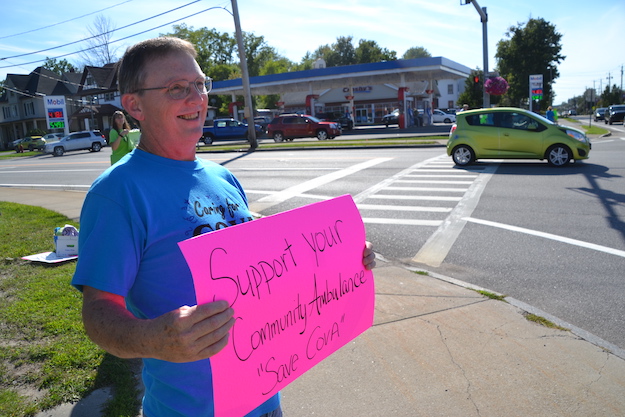 Michael Smith of Albion holds a sign in support of COVA. He credits COVA staff as well as Albion police officers for saving his life on March 21, 2021, providing CPR and stabilizing him so he could be transported by ambulance to a hospital.
He worries about much longer response times if COVA is gone.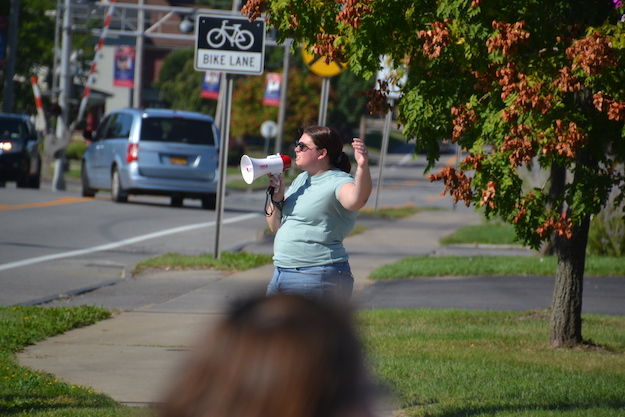 Megan Tabor, a COVA EMT, uses a megaphone to get out the message to support COVA so the agency can keep helping the community.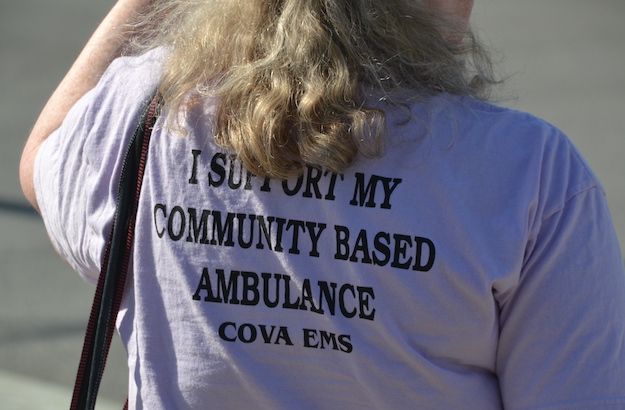 Janine Miller wears a T-shirt showing she backs COVA.
COVA also announced it secured low-interest financing to purchase a new ambulance at a cost of $160,000. It replaces a nearly 10-year-old ambulance with about 200,000 miles. That ambulance has cost $28,000 in repairs this past year.
COVA's staff and leadership is committed to seeing the organization be viable and up to date for the community, COVA officials said.