Courthouse illumined in green to show support of veterans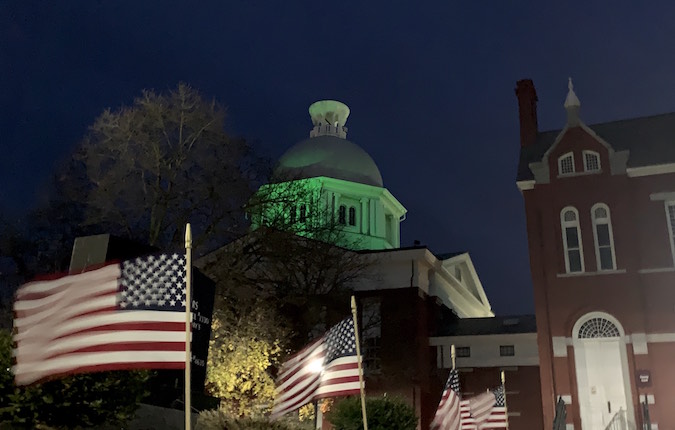 Photo by Tom Rivers
ALBION – The dome of the Orleans County Courthouse is illumined in green tonight, the 11thday it has been lighted up in support of veterans. The flags are by a veterans' memorial that was spearheaded by the Knights of Columbus.
Orleans County is participating in "Operation Green Light" to recognize the service of military personnel.
Veterans continue to serve their community in the American Legion, Veterans of Foreign Wars, church groups and civil service, county legislators said in resolution last month supporting the green light initiative.
Many of the military personnel experience significant stress in transitioning to civilian life, and many commit suicide in that first year out of the military, legislators said.
"With designation as a Green Light for Military Service County, Orleans County hereby declares from November 1st through Veterans Day, November 11th 2021 a time to salute and honor the service and sacrifice of our men and women in uniform transitioning from Active Service," legislators said in the resolution.