Courthouse, built in 1858, getting needed repairs, attention
New sidewalks, exterior lighting, landscaping and cupola work on the docket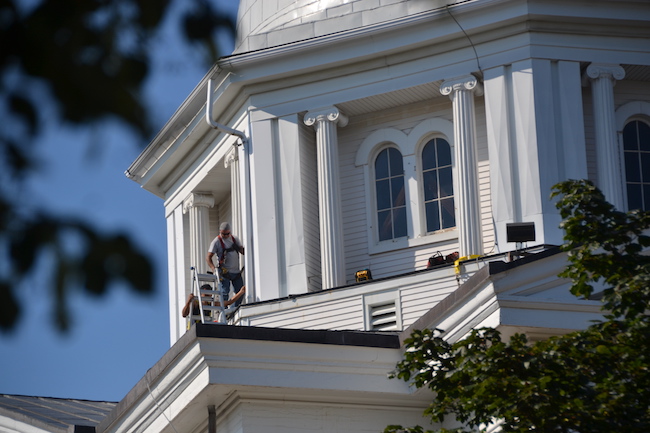 Photos by Tom Rivers
ALBION – Workers this morning are up high on the Orleans County Courthouse in Albion, making repairs to the façade trim on the dome.
The county will also be replacing the roof hatch and seal the cupola, said John Papponetti, superintendent of the Orleans County Department of Public Works.
The sealed cupola should stop water from leaking inside. The hatch, which is used for workers to access the cupola and top of the dome has deteriorated.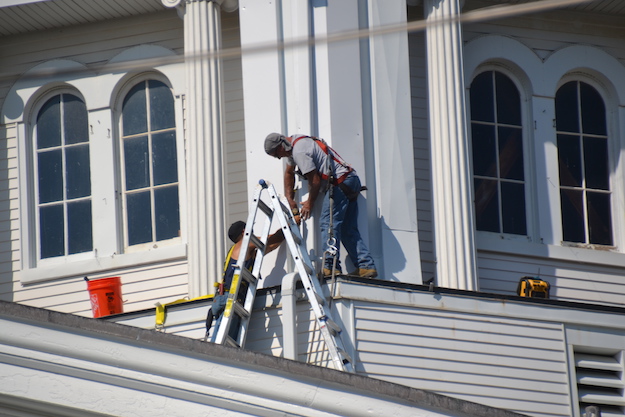 The workers make a repair to the courthouse dome. The building was constructed in 1858 and is the focal point on the Courthouse Square, which is on the National Register of Historic Places.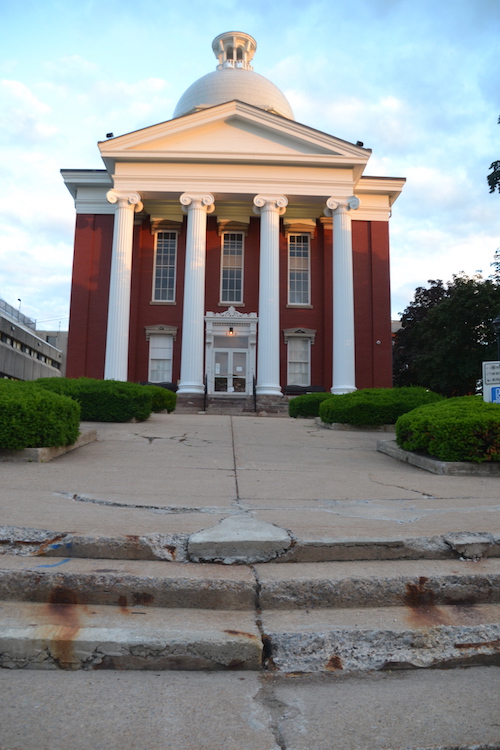 The sidewalks and concrete steps have deteriorated and will be replaced. The County Legislature set aside $50,000 last month to replace sidewalks, upgrade landscaping, and relocate existing light fixtures at the Courthouse Square. That work will not begin until the dome and cupola work is completed. Papponetti said the dome/cupola should be done next Friday, Aug. 13.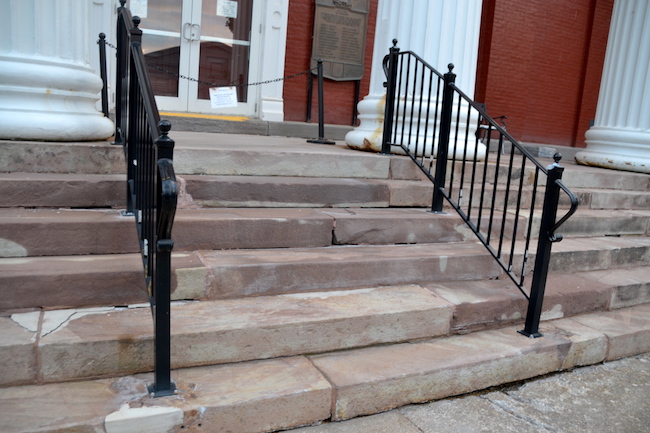 Some of the large sandstone steps at the courthouse also will be repaired. They are crumbling in spots and don't withstand salt, Papponetti said. The steps aren't used that much because the main entrance to the courthouse has shifted to the side facing East Park Street through the County Clerks Building, which is a handicapped accessible entrance.
The big sandstone steps temporarily will be pulled out so there can be an inspection underneath.
"The courthouse is our pride and joy, the center of attention, but it is falling apart," Papponetti told county, village and town officials during a recent meeting of the Orleans County Association of Municipalities.
Some of the efforts are preventive maintenance, but he said the building needs other attention outside of the immediate projects. He also is concerned about the main second floor courtroom that has cracks in the ceiling and some peeling paint. The large columns out front have cast-iron rings on the bottom that are rusting.