County's tentative $78 million budget would increase taxes by 1.9%, staying below tax cap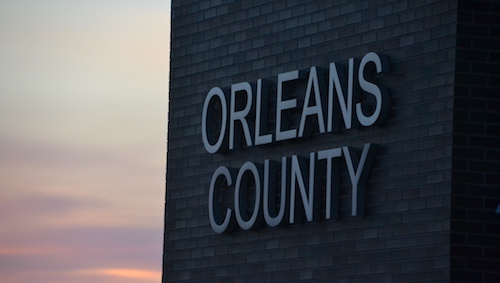 ALBION – Orleans County's tentative budget for 2022 would increase spending by $5.4 million and raise taxes by 1.9 percent in a spending plan that tackles infrastructure projects and maintains local services.
Federal and state aid, including funding in response to the Covid-19 pandemic, will offset some of the spending increase.
Jack Welch, the county's chief administrative officer, submitted the tentative budget on Monday that stays below the state's property tax cap.
There will be a public hearing on the budget at 4:30 p.m. on Dec. 1 in Orleans County Legislative Chambers, 14016 Route 31 West, Suite 200, Albion. The County Legislature then plans to meet the next day at 4:30 in the Legislative Chambers at 4:30 to vote on the budget, with the fiscal year starting Jan. 1.
"This year's $78 million budget recommendation is influenced by the impact of the Covid-19 pandemic as well as the employment challenges of retaining and hiring new employees," Welch said in budget message to the Legislature. "The challenges we have experienced has altered our historical way of delivering services to the public."
The budget will increase the tax rate from $9.98 to $10.09 per $1,000 of assessed property. About $2.20 of that rate is support for towns and villages in the county, including prosecution of vehicle and traffic offenses, AIM-related payments, a sales tax distribution of $1,366,671 and $2,050,000 in community college chargebacks.
The budget also keeps the solid waste and recycling fee at $216 for the year, maintains e-waste sites at three locations in the county, and will continue the annual household hazardous waste collection event which includes residential tires.
The county has benefitted from sales tax revenues that are up over $1 million this year, driven by a significant increase in sales tax from sales over the internet.
The county's contributions to the pension system also will be decreased by about 20 percent due to a stronger Stock Market on March 31, 2021, compared to a year earlier. However, health insurance premiums are projected to increase 37.1 percent, fueled by a hike in pharmaceutical costs, Welch said.
The county is reducing two positions overall from a workforce of 439. But that is due to eliminating some part-time positions and making full-time jobs in an effort to fill vacant positions. The county, like the private sector, has struggled to fill some jobs. There are currently 17 positions open in the county government.
"In the past we have been able to utilize part-time positions to supplement our operations," Welch said. "However, part-time positions are now harder to fill than full-time positions."
The county is planning to use $1.6 million of its American Rescue Plan Act for over $800,000 in deferred maintenance to its buildings and properties, as well as fiber-loop project to improve the computer network between our buildings. The county also will invest in the computer services department for mobile technology for employees and also to improve security to protect against ransomware attacks.
The federal ARPA money will also fund five full-time positions, Welch said.