County treasurer and deputy treasurer take oaths of office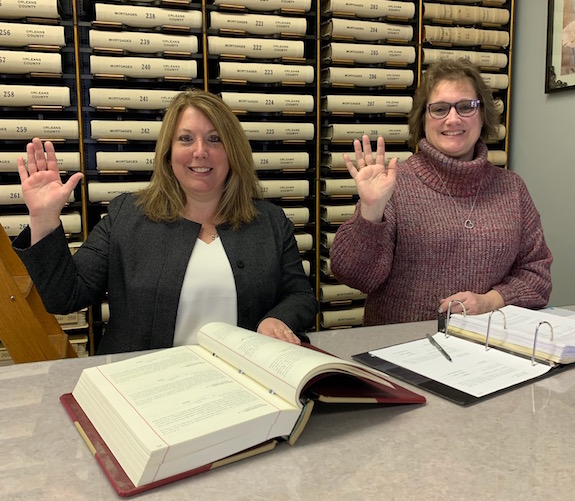 Provided photo
ALBION – Kim DeFrank, left, and Melynda Brown took the oaths of office this morning from Orleans County Clerk Nadine Hanlon.
DeFrank was elected in November to second four-year term as county treasurer. Brown is the deputy county treasurer.
DeFrank of Murray has worked in the treasurer's office for 27 years. Brown of Knowlesville has worked there for nearly 22 years.
DeFrank said she enjoys working with the public in her job as treasurer. Her office functions as an accountant for the county, keeping the financial books and tracking all of the funds in the county government.
DeFrank said she has pushed to keep the office open to the public, even during the Covid area. That has been accomplished by putting in a Plexiglass barrier at the front desk.
The Covid pandemic has changed one important function of the treasurer's office – the annual property tax auction. That is usually held in May but has been pushed back by the state to November the past two years. DeFrank said she looks forward to that going back on a spring schedule so there is more time to close out the transactions within the same calendar year.
DeFrank also was recently appointed treasurer of the New York State County Treasurers and Finance Officers Association. She said that state-wide association offers many resources county treasurers around the state.