County recognizes Planning Board member for 34 years of service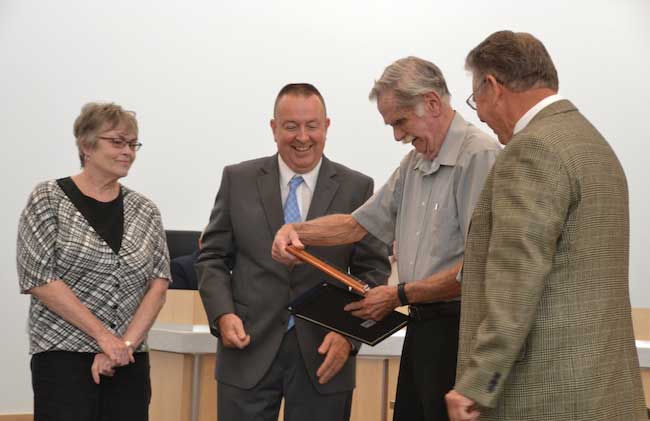 Photos by Tom Rivers
ALBION – The Orleans County Legislature last week presented a special recognition award to Tibbs Ahlberg for 34 years of service on the Orleans County Planning Board, including 16 years as vice chairman.
Ahlberg has resigned from the board because he has moved out of Gaines and Orleans County to live in Spencerport.
Ahlberg was joined at the presentation by his wife, Kathy, the retired clerk of the Legislature. Ahlberg was presented a certificate and plaque by James Bensley (second from left), director of the Planning Department, and County Legislator Ken DeRoller.
Bensley said Ahlberg has been a dedicated Planning Board member who was influential in projects in Gaines, especially with the town's comprehensive plan for land use.
"That's what makes successful communities," Bensley said. "It's when you have long-time volunteers like him."
Ahlberg served in an at-large position from central Orleans. The County Legislature has to approve his successor for the board.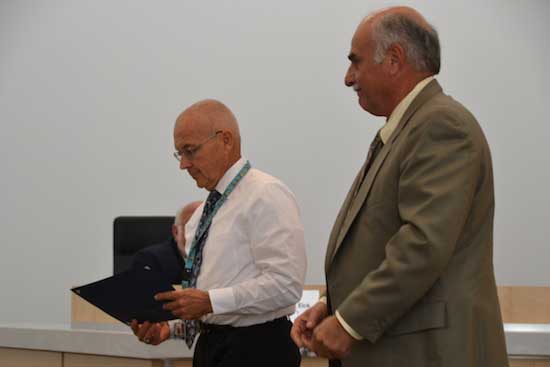 The Legislature also presented a special recognition award to Jack Welch, the county's personnel and self insurance director. Legislator John DeFilipps presented the award to Welch for completing the course requirements of the County Government Institute sponsored by The County Government Institute, an educational partnership of New York State Association of Counties and Cornell University.
"The Orleans County Legislature appreciates your commitment to continuing great leadership, integrity and accountability to our employees and to all others that you serve," the award states.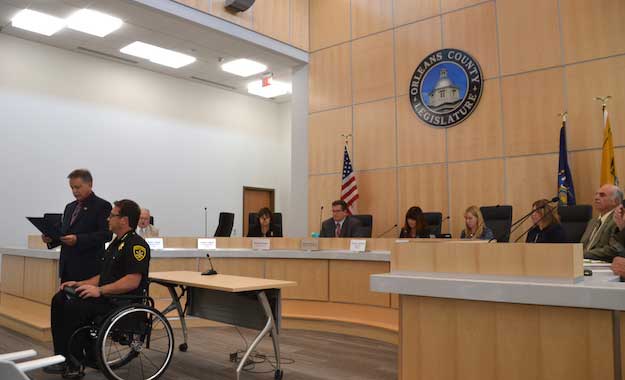 County Legislator Don Allport presented a proclamation to Sheriff Randy Bower acknowledging Sept. 16-22 as Sheriff's Week.