County Legislature, state legislators present citations to Jeanne Crane
Waterport woman recognized for years of volunteer service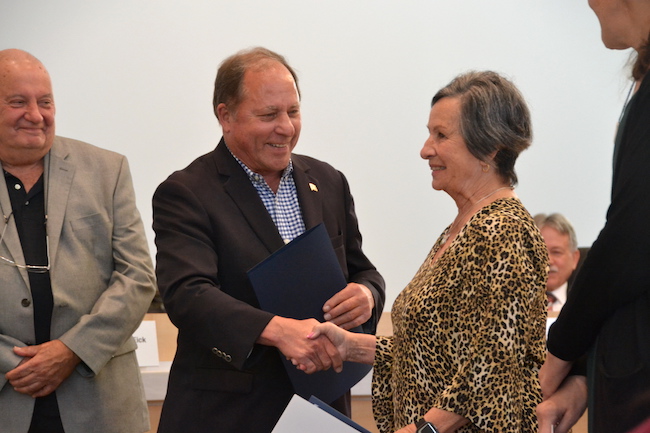 Photos by Tom Rivers
ALBION – State Assemblyman Steve Hawley presents a citation from the Assembly to Jeanne Crane who was recognized for her many years of volunteer service to the community.
Crane was nominated for an award through the Office for the Aging. Normally the award winners go to Albany for a special recognition as part of Older American's Day. Crane and the other winners will be recognized during a virtual ceremony on Nov. 5.
Hawley and State Sen. Rob Ortt presented Crane with the citations in person on Wednesday.
"Jeanne embodies what it truly means to volunteer and care for one's neighbors," Hawley said.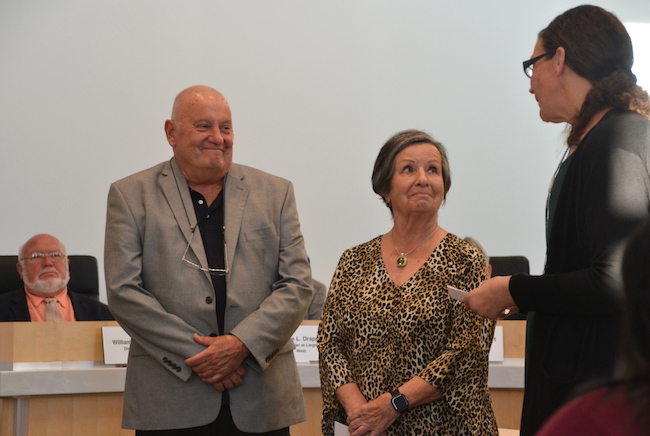 Jeanne Crane also received a special commendation from County Legislator Fred Miller, left, and Melissa Blanar, the director of the Office for the Aging in Orleans County.
Crane, a retired nurse at Medina Memorial Hospital, has been a long-time volunteer for the hospital, the Orleans County Democratic Party and numerous other organizations and causes in the county.
She was nominated for the award by Cindy Perry and Dorothy Follman for her volunteer work with the hospital. She helps raise funds for the hospital through events such as Treasure Island, Mega Drawing and golf tournaments. These events support renovations to the hospital, purchase updated medical equipment and improve services to patients.
She also was instrumental in a recent campaign to improve the Long Term Care Residential Unit (North Wing) at the hospital. When the call came out for nurses to assist with Covid-19 vaccines, she stepped up and helped several days a week, all day to assist and eventually she was hired to help with the continued effort.
"You have donated and committed numerous hours," Blanar said. "We appreciate all that you've done for Orleans County."