County Legislature meets for first time in new chambers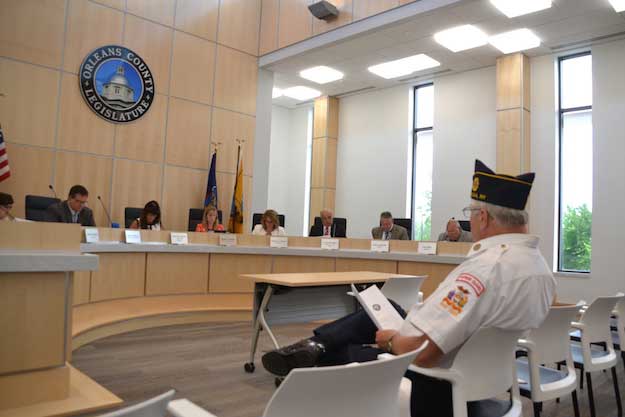 Photos by Tom Rivers
ALBION – The Orleans County Legislature held its monthly meeting on Wednesday and for the first time met in the new chambers as part of the addition to the County Administration Building on Route 31. The new meeting room is part of a 23,000-square-foot addition to the building.
David Kusmierscak of Medina sat in the front row for the Legislature's first session in the new space.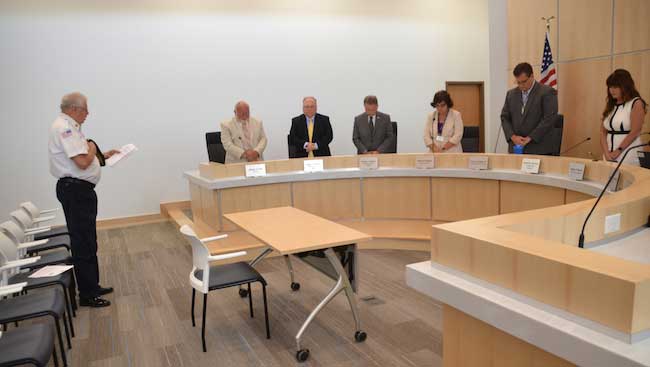 David Kusmierscak is a chaplain and gave the invocation at the meeting. He has been giving the prayer at each meeting for several years.
From left in back include county legislators Bill Eick, Skip Draper and Don Allport; County Attorney Kathy Bogan; Chuck Nesbitt, chief administrative officer; and Lynne Johnson, chairwoman of the County Legislature.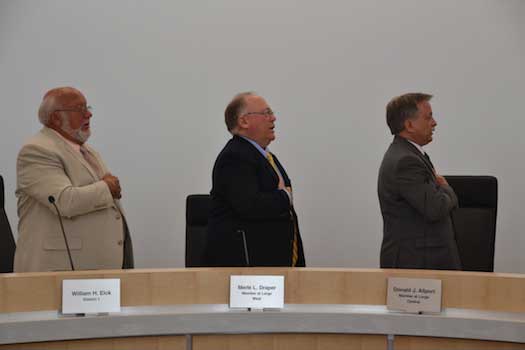 County legisators stand for the pledge of allegiance, including from left: Bill Eick of Shelby, Skip Draper of Medina, and Don Allport of Gaines.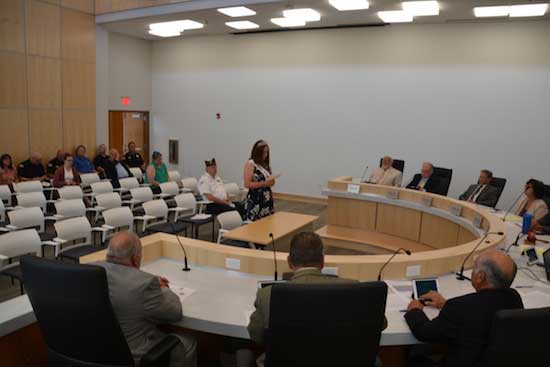 Niagara-Orleans Dairy Princess Hayley Roehling of Akron was the first person to speak before the Legislature. She spoke about the many nutritional benefits of milk. She urged people to try more dairy products. She said dairy farmers take care of their animals and the land.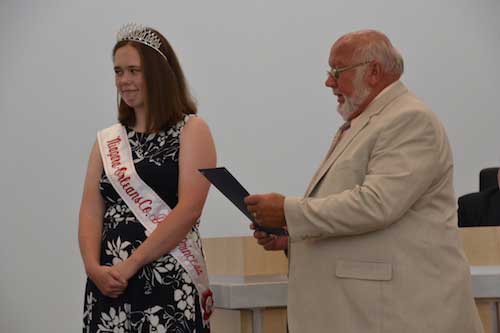 County Legislator Bill Eick, a retired dairy farmer in Shelby, presents a proclamation to Hayley Roehling, the Niagara-Orleans dairy princess, that declares June as Dairy Month.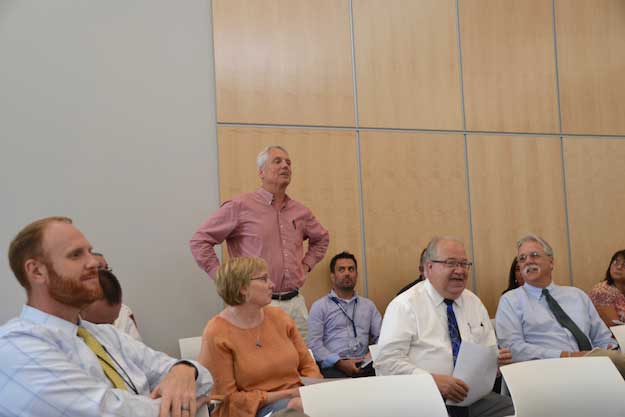 Jim Whipple, chief executive officer of the Orleans Economic Development Agency, speaks during a public hearing about a grant opportunity to continue the Microenterprise Assistance Program, which assists small businesses.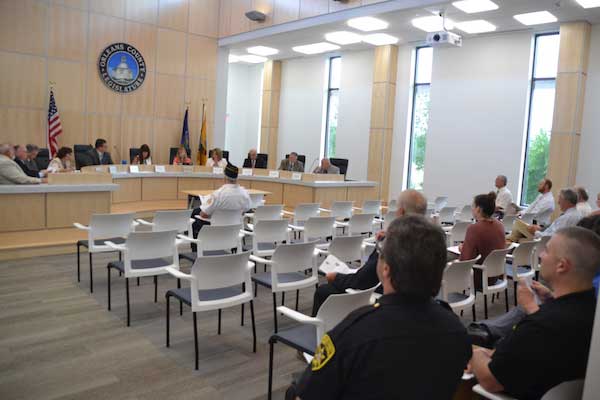 The new meeting room can accommodate about 60 people, which is about twice the seats as the former meeting room in the historic County Clerks' Building at the Courthouse Square. Sheriff Randy Bower and Jeff Gifaldi, an investigator with the Sheriff's Office, are in the front of this photo with their backs to the camera.
The Legislature met in the Clerks' Building since 1982. Prior to that, the Legislature and the former Board of Supervisors, met in a first floor courtroom in the County Courthouse.
Besides a larger meeting room for the Legislature, the 23,000-square-foot addition also includes offices for the legislative staff, the Health Department, Board of Elections and information technology department.
The building is connected to the current County Administration Building with the addition on the south side. The current CAB includes the Department of Social Services, Job Development, Tourism, Planning and Development, Office for the Aging, Department of Motor Vehicles and Personnel.
The building at 14016 Route 31 West is located on a hill behind the nursing home.