County Legislature honors retiring DSS employee with 42 years of service
Holley-Kendall wrestling coach also honored for record-setting career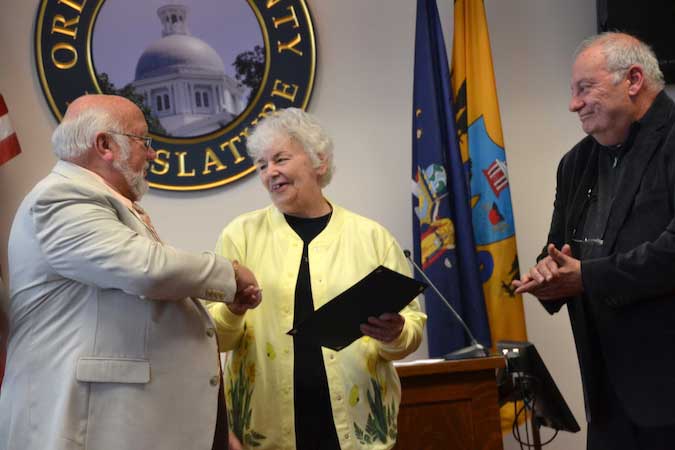 Photos by Tom Rivers
ALBION – The Orleans County Legislature presents a  special recognition award to Penelope Mosier on Wednesday in appreciation for her 42 years of service to the county in the accounting department for the Department of Social Services.
Mosier, who retired on March 30, is congratulated by county legislators Bill Eick, left, and Fred Miller.
She started her career with the county on March 25, 1977 when she was appointed as a temporary account clerk typist under then DSS Commissioner Jerim Klapper. Mosier worked with three other DSS commissioners in her career, including Patricia Hardenbrook, Carri Blake Ludwig and Tom Kuryla, the current commissioner.
The Legislature presented the recognition to Mosier to "honor her dedicated and outstanding service to the County of Orleans for her long serving commitment to the County and to our Department of Social Services."
Mosier of Clarendon said she enjoyed working for the department, doing payroll and accounting for child and family services.
"I love the people," she said about her co-workers. "It's like a big family."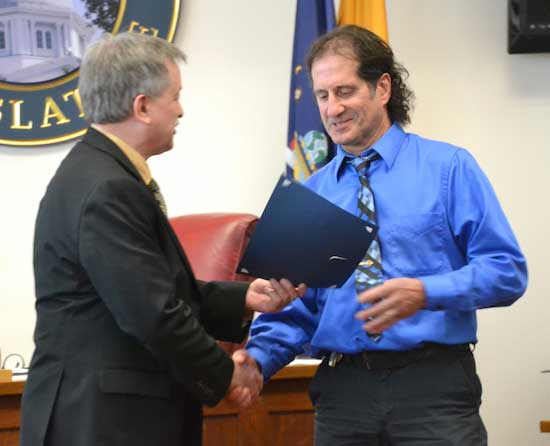 County Legislator Don Allport presents a "Special Recognition" award to John Grillo, who is retiring as the wrestling coach for the combined Holley-Kendall team. Grillo, in a 44-year career that started in Pavilion, set a state record with 795 team wins.
"High quality scholastic sports programs are important tools to teach young people teamwork, leadership, confidence, character and grit," according to the citation from the Legislature. "Coach Grillo spent his entire career committed to driving young athletes to success, winning 13 Section V Team Championships and being named Section V Coach of the Year a jaw-dropping six times."
The Legislature said it wanted to recognize Grillo for "his extraordinary and unprecedented achievements."
"Coach Grillo has served as a mentor and role model, giving so much of himself as an educator and a father figure for the benefit of so many young people by teaching work ethic, preparation, character and mental toughness," the Legislature said.