County Legislature celebrates Sheriff's Week
Bourke said department has 'top-notch employees from top to bottom'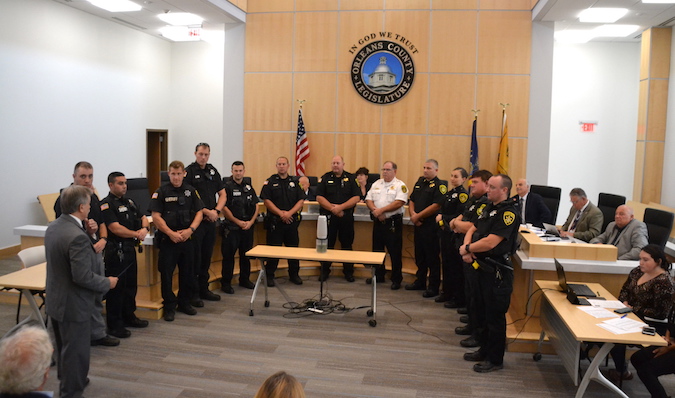 Photo by Tom Rivers
ALBION — Orleans County Legislator Don Allport, left, reads a proclamation on behalf of the Legislature proclaiming Sept. 19-25 as "Sheriff's Week" in Orleans County. Several members of the Sheriff's Office attended the Legislature meeting on Wednesday afternoon to receive the proclamation.
"It is fitting to celebrate the historical contributions of the Office of Sheriff and the significant role it plays in our modern criminal justice system, and commend Sheriff Christopher Bourke and ALL the men and women of this Department for an outstanding job of "Keeping the Peace," Allport said in reading the proclamation.
Bourke said the Sheriff's Office has "top-notch employees from top to bottom." He praised the employees in the criminal division, those who work in the jail, the Marine Patrol and as dispatchers for their service.
He also thanked the county legislators and Chief Administrative Officer Jack Welch for their support, including with the funding provided for the Sheriff's Office.
Bourke said it is a challenging time to be wearing the uniform.
"It's a disgrace to see law enforcement demonized the last 20 months," Bourke said.
County legislators on Wednesday also commended Deputy Ashleigh Stornelli who on Tuesday was recognized as the "Women of Distinction" in the 62nd State Senate District by Sen. Rob Ortt. Stornelli has worked as a deputy the past six years, including three years as a school resource officer in Kendall. She recently rejoined the road patrol and is looking to join the county's SWAT team.