County fire investigator charged with official misconduct
Walter Batt allegedly made unlawful vehicle and traffic stops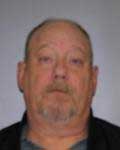 ALBION – An Orleans County fire investigator has been charged with official misconduct, the State Police reported today.
State Troopers and the Bureau of Criminal Investigation (BCI) arrested Walter R. Batt, 59, of Albion, on Saturday for Official Misconduct (A Misdemeanor).
On April 6, 2017 an investigation was started from a complaint made in which Batt unlawfully performed vehicle and traffic stops, State Police said today.
During the investigation the Orleans County Sheriff's Office was contacted to determine if Batt was affiliated with the department. Batt was not employed or otherwise affiliated with that department. Batt, a former member of the Albion Fire Department, had emergency lights on his vehicle.
Batt was issued an appearance ticket to the Town of Albion Court to appear in May 2017.
Batt has been placed on leave in his role as a fire investigator.
"We will be evaluating his status as information comes available," said Chuck Nesbitt, the county chief administrative officer.