County celebrates reopening of Carton Road Bridge in Kendall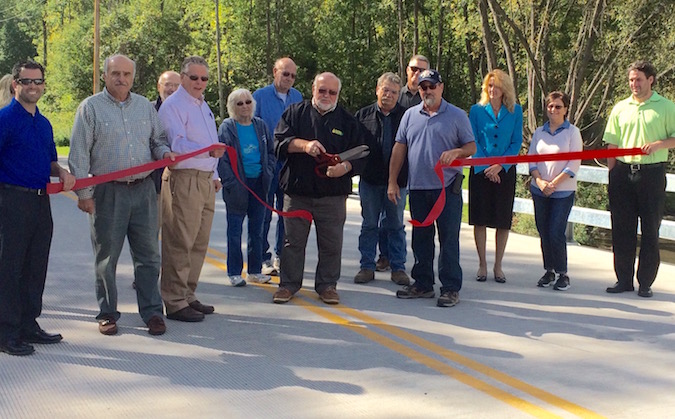 Provided photo
KENDALL – Orleans County officials were joined by Kendall community leaders with a ribbon-cutting celebration last Wednesday for the Carton Road Bridge in Kendall.
Pictured, include, from left: John Papponetti, engineer with LaBella Associates; John DeFilipps, Orleans County legislator; Glen Spellan, chairman, Kendall Innovations Committee; Ken DeRoller, Orleans County legislator; Becky and Rod Hughson, Carton Road residents; Bill Eick, Orleans County legislator and chairman of the Highway Committee; Warren Kruger, Kendall highway superintendent; Bruce Newell, Kendall town councilman; Jerry Gray, Orleans County highway superintendent; Julie Christensen, Kendall Central School superintendent; Becky Charland, executive director of Orleans County Chamber of Commerce; and Chris Bayer, structural engineer with LaBella Associates.
County officials said the bridge project was ahead of schedule and under budget. Crane-Hogan Structural Systems in Spencerport was the main contractor for $793,729. The new bridge replaces one from 1959. The project is part of an $8 million bond the county took out in 2014 for a series of infrastructure projects over three years.
Contractors are also close to finishing a bridge over Fish Creek on East Scott Road in Ridgeway. Union Concrete and Construction Corporation in West Seneca submitted the low bid for that project at $724,346. The new bridge will replace one from 1936.